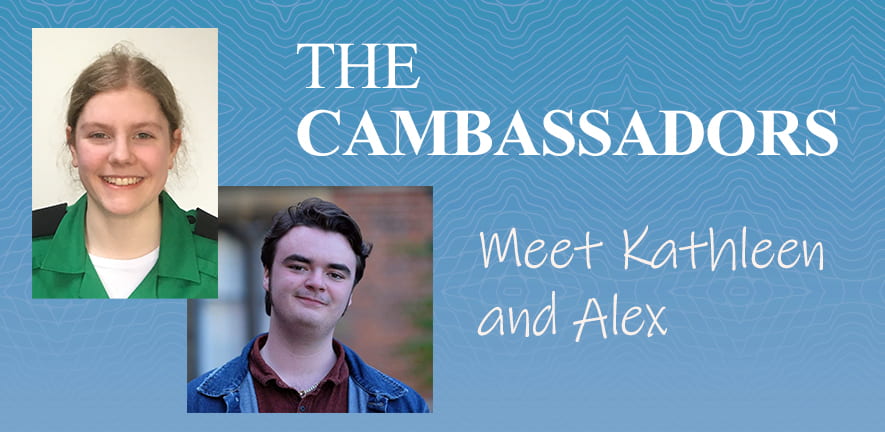 Becoming a Student Ambassador, known as a CAMbassador here at Cambridge, is a great way to develop a range of skills that employers look for, giving you some valuable experience for your CV or to talk about at interview
Working on a range of events, from Open Days to Summer Schools, you'll become an effective communicator; work as part of a team; lead activities; contribute to presentations; use your initiative to solve problems; and work with diverse groups of people. Don't just take our word for it: find out more from Kathleen Bowman and Alex Roberts, who have shared their experiences with us…
Introductions
Kathleen Bowman: I'm a third year at St John's College studying the biochemistry option of Natural Sciences.
Alex Roberts: I'm a second year studying Biological Natural Sciences at Magdalene College, and I'm from North Wales!
Why we became CAMbassadors
KB: I came to Cambridge because of the access scheme I was on, so I wanted to make sure other potential applicants had the same great experience I had and wanted to come to Cambridge. I think the best thing about the experience is knowing that you've helped someone make one of the most important decisions of their life, even if that means not applying to Cambridge. And if they do apply, then you know that in some small way you have helped them achieve something incredible.
AR: I went to a state comprehensive school, and widening participation events like the Sutton Trust Summer School, and events run by my college's Schools Liaison Officer, Sandy Mill, made me see that I could apply to somewhere like Cambridge. The students I met broke down all the preconceptions I had about the typical Cambridge student, in that there isn't a typical Cambridge student! From this, I realised that Cambridge is full of inspiring, but normal people. I promised myself I would give back, just like those students did. I hope I can make as profound an effect on someone as those students did on me.
the biggest reward is seeing that you have made an impact, however large or small
Words of wisdom
KB: I learnt very early on that you are probably the first time these students have ever met someone from a top university and they will form opinions of all the students, the culture and the institution itself based on how you talk and act. So not only is it important to just be yourself in front of them so they get to see who you really are, but also to emphasise how different people are at university and that there is no 'model student' at Cambridge. I've learnt that the best thing is to be honest with the students about life at university, as this is a way of helping them decide if university is the right thing for them, and I've found that they're a lot more receptive and trusting of someone who points out both the good and bad things about university compared to someone who says it's right for everyone. The students feel more open to asking you questions about studying at university, but also they tend to engage better with the day and get more out of it when they realise you're there to help them.
AR: Being a CAMbassador is such a rewarding experience. You meet and help people from all walks of life. It's a great way to get to know like-minded and inspiring people in the other CAMbassadors, too. However, I think the biggest reward is seeing that you have made an impact, however large or small. This can be as simple as helping a student understand a concept in a subject, or as big as making them realise that they are good enough to apply to Cambridge (or any other top university).
KB: Talking and presenting to an audience was something that used to terrify me, but with the experience I've gained on these events, I'm now comfortable with public speaking. I've discovered ways to break down the barriers that stop students fully engaging in any event – the main one being them feeling awkward in a new environment with new people. In these situations, some facilitation from you can help them get over that barrier, and get to know each other better. Knowing when this is needed is one of the biggest challenges of the role, I believe. In other situations, the students might be chatty and getting on well with each other, and require no facilitation from you. Joining may give them an opportunity to get to know you, and ask any questions they may have, but (particularly in younger students) joining could dampen that positive chatty environment. Being able to find that balance is difficult, but when you manage it, it's great!
In my first year, the work I've done in access has led me to consider a career in this field
Our summer experiences
AR: For the whole of the last summer, I stayed in Cambridge. I spent the bulk of July and part of August working as a CAMbassador on a variety of events and schemes. Over August through to the start of term in October, I've completed an internship in a developmental biology lab in the Zoology Department. In my spare time I have been working in my college library helping prepare for the move to the new library (currently under construction). Alongside all of this, I have worked and volunteered in my college on access events, from open days to school visits.
KB: This summer I spent six weeks in the Pharmacology Department of the university on a summer research internship, which helped me learn about how research at a university works and some higher-level experimental techniques that I won't learn in my course. In between those weeks, I worked two of the Sutton Trust Summer Schools as a CAMbassador, which were the highlight of my summer. It's one of the rare occasions in outreach where you get to know the participants over more than one day and you can see them become more enthusiastic about their subject and forming friendships, and they get to know you better and ask about your university experience more than they would on a one-day event. They're also great fun for the CAMbassadors because we get to spend an extended amount of time with each other compared to other events, and even have a laugh making the quiz for the students.
Future plans
KB: There are a few things I'm thinking about doing once I finish my course, the main one being a PhD and then going on to work in industry in life sciences. But if I don't like research or find myself wanting to get away from studying, then I'm thinking of working at a university outreach office or other widening participation in higher education scheme.
AR: I really enjoy my degree, so going into research would be amazing. Over the next year, I will be doing more specialist subjects, so I hope that this will help me gain a greater idea of the kind of research I want to do, but I expect it to be broadly based in physiology. In my first year, the work I've done in access has led me to consider a career in this field, too. A nice way to mix the two could be Science Communication, but we'll see!
How we've used the Careers Service
KB: My main interaction with the Careers Service to date has been attending their careers talks during outreach events, but even then I've been given lots of ideas about how to choose a career and what to think about when writing a CV and applying for jobs. I'm keen to use the service more as a potential finalist to help with the complex application processes many jobs have, and also learning how to do well in job interviews which are nothing like anything I've ever done before.
AR: I haven't used the Careers Service so far! However, I plan to over the next two years, as the exposure to different sectors I got in my first year is leading me to consider many different career paths.
Working as a CAMbassador is flexible: you sign up to events based on your availability and you will be paid for your work – a great way to earn some extra cash!
Applications close on 15 December 2019.