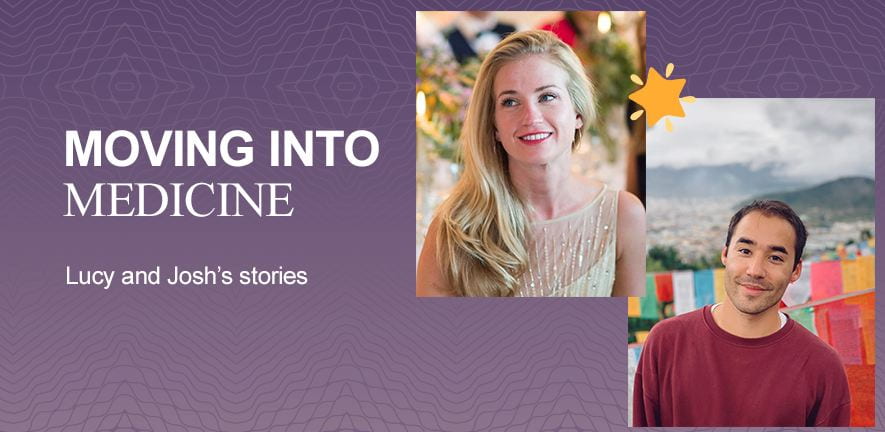 For many, deciding to become a doctor isn't something they consider until after graduation, or a period in the workplace which gives a deeper insight into their motivations and interests…
Training to be a doctor as a graduate is a big commitment. Meet Lucy, now a Junior Doctor and Josh, who has recently started his Graduate Entry Medicine course at Cambridge, as they share how they decided to move from the Arts to Medicine, and their advice for anybody thinking about making a move into Medicine after graduation.
What attracted you to medicine and what prompted you to consider it as a career option for you?
Lucy: After my MPhil in Philosophy, I was lucky to have a wide range of really interesting job opportunities – from running a campaign in the charity sector, to public policy in the Cabinet Office, to brand strategy in the private sector. This allowed me to take a step back and think about what I had most enjoyed: short, sharp, results-oriented tasks; dealing with people; continual learning; a meritocratic system; doing something 'worthwhile', and what I least enjoyed: being stuck behind the same desk all day; making decisions without a solid evidence base to support them; only dealing with a particular sector of society.
When considering my – much longer- long list, I suddenly realised that I had inadvertently described exactly what a doctor does. It had never occurred to me as a career before – there are no doctors in my family, and I had never studied science subjects at school. But the idea niggled away, so I started to entertain it.
Josh: I considered applying for medicine at school but was put off by the course's length and specificity to one career. I then pursued a Classics degree and, later, a career in marketing.
After deciding that I didn't want to stay in marketing long term, I went back to the drawing board to look for a role that would combine what I knew I enjoyed from experience (responsibility, long hours, working with people) with what I'd felt had been missing (continuous academic and personal development, contributing positively to society). And then I found I was eligible for Graduate Entry Medicine without a science degree.
Is this the right move?
Lucy: I spoke to as many people as possible who worked in Medicine, to ask them what they did all day, and what the best and worst bits of their jobs were. I also undertook some longer-term volunteering at my local hospital – to demonstrate commitment-, as well as a few different short-term shadowing placements following surgeons and medics around in their hospital jobs.
Alongside this, I researched what courses were out there, and what the entry requirements were. Not having a Science degree under my belt really narrowed down my options. Many courses ask for additional exams, such as the UCAT or GAMSAT, so booked in to sit these tests. I received an offer from Cambridge for the GEM course conditional on A's in all 3 Science A-Levels, so I studied for these, and sat the exams. The whole process took around 6 months. There are lots of great resources out there to help with course applications, such www.themedicportal.com, which were invaluable in helping me know what to do.
Josh: It was literally a lifechanging decision, so I gave myself 6 months to sit with it and see if the tug to apply would fade.
When it didn't, I explored it through open days, 3 days of shadowing GP, a week shadowing hospital doctors and working part-time as an Healthcare Assistant. This allowed me to experience first-hand the hours, responsibility and patient relationships that come with working in healthcare – things you can't get when applying at school.  Alongside those came the UCAT and studying A-Level chemistry.
Lucy and Josh's advice
Lucy: Get as much work experience as you can! Getting into Medical School is tough, and you'll need to stand out. But – far, far more importantly – work experience allows you to see what it's actually like. There are many unforeseen aspects to the role I have found really tough – not the expected clichés of 'responsibility', 'long hours' or 'dealing with death'… but small things, like unpleasant smells, windowless rooms, rudeness, standing for 6 hours on a ward round without a toilet break, hierarchy, rota difficulties. You need to know whether you can put up with these, and whether the positives of the job will outweigh the downsides. I would strongly recommend trying to shadow a junior doctor for as much time as you are able. Whilst you do so, think about the tasks they are actually doing, the skills involved, and see what you think. It's a long, expensive commitment, and it's best to know sooner than later if it's not something you'll enjoy.
Josh: Grad courses are shorter as patient facing content is brought forwards. Universities need to check that you can handle being chucked on wards early, and I personally believe that by interview they are looking at your communication, empathy and conduct under pressure.
I'd recommend researching and practising active listening techniques, as well as consciously working on eloquence and quick relationship building. It's weird to engage with these things artificially, but they are going to be examined at interview – and you can practice them well ahead of time in everyday life and through experiences like Helpline work.