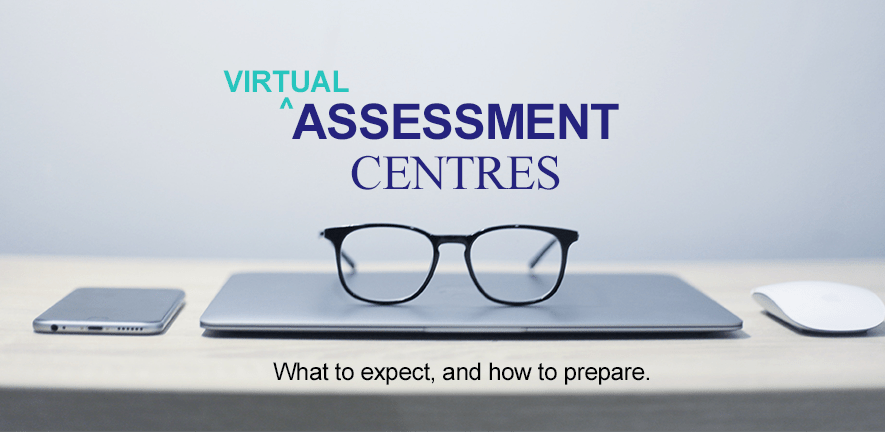 Our careers advisers share their top tips for preparing for being part of virtual assessment centres
Assessment Centres are usually a process in which you are invited to look around your employers' offices, have lunch with current employees and fellow candidates, and wait nervously in corridors and meeting rooms to be interviewed. As we await the return to in-person recruitment it is key to recognise that even after recovery from Covid-19, many employers may choose to keep Virtual Assessment Centres. Digital recruitment can be cheaper, more efficient and offer more comprehensive candidate support than costly in-person centres. The resource is likely to head toward making virtual recruitment more sophisticated, rather than bringing candidates from across the country. So, what better time to get comfortable with the digital world of recruitment?!
What to know, do and consider as you prepare:
1. Your research will be the same
Preparation has always been the key to success. The platform may be virtual, but the people listening to your answers are still very real. So what's important for you to do as part of your research?
Understanding the role inside out? Check.
Being able to articulate your relevant skills and experiences? Check.
Recognising how the organisation's values, projects, ethos and culture get you excited enough to spend your early career there? Check.
Preparing questions to ask your interviewer? Reviewing your CV? Preparing for a presentation using a range of sources? Doing a practice interview? Doing at least 20 case study prep sessions? Brushing up on core technical skills for the role? Check, check, check, check and check.
These things were of vital importance before and they remain to be so – you will be tested on the same areas you always have – just in new ways.
Tips
Keep strong on the basics of role research, whatever the circumstances
Ensure your background is plain and not distracting
Let your family, housemates, etc know that you cannot be disturbed
Dress appropriately (head to toe!)
2. Group work will remain
You will likely be used to group Zoom chats or Houseparty quizzes…well this is a time to remember just how annoying it is when everyone speaks over you. Whilst the virtual interview has been recreating the 1-2-1 in-person experience for some time, virtual group work is perhaps not so familiar. While not all tasks can be done in the virtual world (and will need you to visit the employer) there are many ways employers are adapting their assessments.
Depending on the role you can be set a group task that may involve:
Making recommendations on a case study
Briefing a client from multiple research documents
Solving a problem
Creating a new product, campaign or resource
Role play
You will find you are put into a digital breakout room with your group and you will be set a time limit. You will likely find an assessor will visit your group and observe you – they will be present just as they would in an in-person group-task. You will need to contribute just as actively as you would in person. Being put into a virtual breakout room can be daunting if it's your first time, but a top tip is to be friendly, make a note of everyone's name (likely on their screen) and help out your peers if they are on mute or their video isn't on by sending them a message in the chat box.
Tips
Utilise the technology – use the chat box to note ideas, use a digital whiteboard or shared document to collaborate, share your screen if you are creating a presentation/document, or ensure someone else is, to show your assessor you have something ready to present/share.
Agree some terms for communication if you have a large group online there are tools such as the 'thumbs up' or 'hand up' to help you ask a question or agree without speaking above the group. Why not agree with your group how you might manage communications early on
3. Asking questions and networking still offer an individual approach
Aside from group work, depending on the role, you can expect various individual tasks, such as:
Analysis tasks
Interactive games
Case Studies
E-Tray tasks
Presentations
Individual interviews
These are good ways to test your technical ability and company fit – but outside of these formalities, networking and the opportunity to ask questions shouldn't be missed if presented.
Networking – be it over a virtual lunch, a 1-2-1 with a current employee or a company presentation with a chance to ask questions – shouldn't be ignored in your preparation.
Tips
In an online chat box your name will be visible, and you will likely be referred to by name more than in person, so preparing quality questions to ask your employer is a good opportunity to build an impression.
If you get 1-2-1 FaceTime with a current employee, then preparing questions that you cannot find on the website is key: consider the information you need to decide. Think: what are the challenges and successes of the role, what are the opportunities for development or interesting projects? How did they cope with the transition from university to work.
4. Have a contingency plan
Previously you might have read all the documents telling you where and when you needed to arrive. You had all your bus, tube, taxi and transport advice, as well as advice on lunch; what to bring with you and who you might meet on the day. Instead, you are now going focus your attention on how to connect online effectively.
Read all information carefully

Check for links embedded in meetings and documents that will connect you to meetings and tasks.
For international organisations or if you are in another country, check you have the right time zone set in your diary

Ensure you are familiar with the tech platform.

Is it Zoom, Google meetings, Microsoft Teams, Go to Webinar (Insert any new web platform here!) – the key is to ensure that platform works through your device (Mac? Laptop? Desktop?).
Ask your recruiter in advance for any major support (not on the day if you can help it)

Ensure you have a back-up plan…

Can you revert to your mobile or device if your computer shuts down?
Is everything charged and do you have cables to hand?
Ensure you know how to contact the recruiter if things fail or internet dies (completely normal!) – is your mobile number up to date in case they need to do the interview via phone?
Want more advice? The Careers Service run a skills session on 'Succeeding at Assessment Centres'. You can sign-up through Handshake. The next session is on 20 October.
Useful resources: