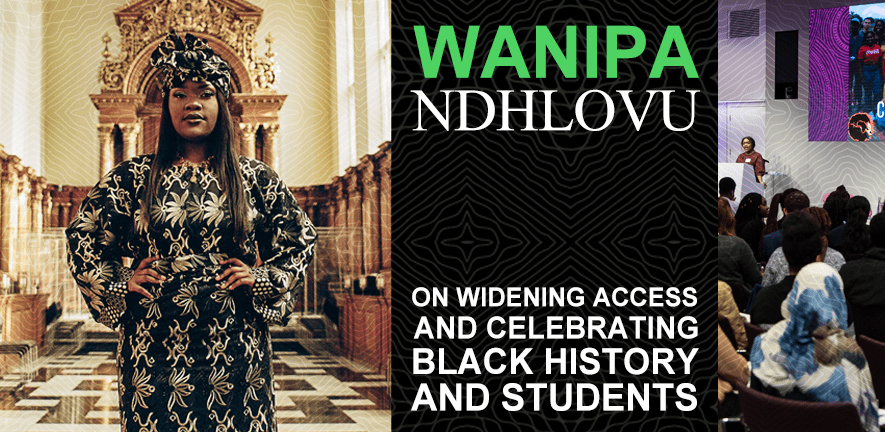 Wanipa Ndhlovu, former President of the University's African-Caribbean Society and Trinity College BME Officer, discusses what she learned and achieved in those roles, the highlights of her time at Cambridge, and the future
Hi Wanipa! Please introduce yourself – what do you study at Cambridge, and which college are you part of?
Hi! My name is Wanipa and I'm a third year Lawyer at Trinity College.
What have been some of your personal highlights of your time at Cambridge so far?
I've made so many good memories, but if I had to choose one big one, I'd probably have to say the Trinity BME formal that I organised as BME Officer. It was really emotional for me because it was my last event as BME Officer and I was coming to the end of my time as ACS President, and I got to deliver a really meaningful speech about my grandad and the sacrifices me made for my family! Everyone looked so gorgeous because the dress code was traditional wear, the vibes were good, we had jazz in the bar, and the event was actually filmed as part of the BBC Documentary, 'Being Black at Cambridge'! Another big highlight was getting to meet Baroness Lawrence at Murray Edwards; that was amazing because she's someone whose strength and grace I have always admired.
Aside from that, some of my best moments have been the small things. I've made some friends for life, and I'll always treasure the times we spent just doing everything and nothing together!
Tell us about the projects and societies you've been involved with at university. What are some of the key things you learned and were proud of while being President of ACS?
From 2019-20, I was both President of the University's African-Caribbean Society and Trinity College's BME Officer. As you can imagine, I learned a huge amount, but some of my key takeaways have been to not be afraid to speak truth to power. Some of my quietest but most important behind-the-scenes achievements came about because I was willing to challenge the way things were being done and push for a different way of thinking. As well as this, I learned the importance of collaborating. Never be too proud to take advice, even from someone who you might not initially think is going to be helpful! However, as well as collaboration, I learned the importance of having a vision and staying true to that even when other people might not understand or even support it initially. It is impossible to please everyone, and I think there is true skill in being able to take on board varying opinions but have the boldness to have the final say.
As BME Officer, a standout for me was organising the Black Cantabs Exhibition at Trinity and including pictures of the current black Trinity students. The launch was so beautiful and a lot of friends from other colleges attended, as well as the former and current master of Trinity. We also got a black string quartet, which was amazing! That was the first major event I ever organised at University and I think it definitely ignited in me a passion that fuelled me to do some of the other things I managed to do.
As ACS President, I have to mention the Access Conference which took place in August 2019. We were able to help over 140 black students get the information they needed to apply to Cambridge, as well as debunking myths and inspiring them with amazing speakers including Courtney Daniella and the (then newly elected) Master of Jesus College, Sonita Alleyne OBE. The Motherland Conference in October 2019 was also a huge achievement. It took months of very hard work and we got some amazing speakers including George the Poet and Kwame Kwei Armah OBE. Even though there were a couple of bumps on the day, the whole committee pulled together to make it a success! I also have to give honourable mention to the ACS University Challenge we organised in Collaboration with Oxford ACS. It was just such a funny night (although I am ill inclined to comment on who won…)! I think when it comes to black access to university, it's important that we ensure not only that black students get through the door, but once they're here, they have an enjoyable time. For me, organising those really fun events was just as important as the more serious ones because those moments – surrounded by so much joy – are the ones that really make your university experience.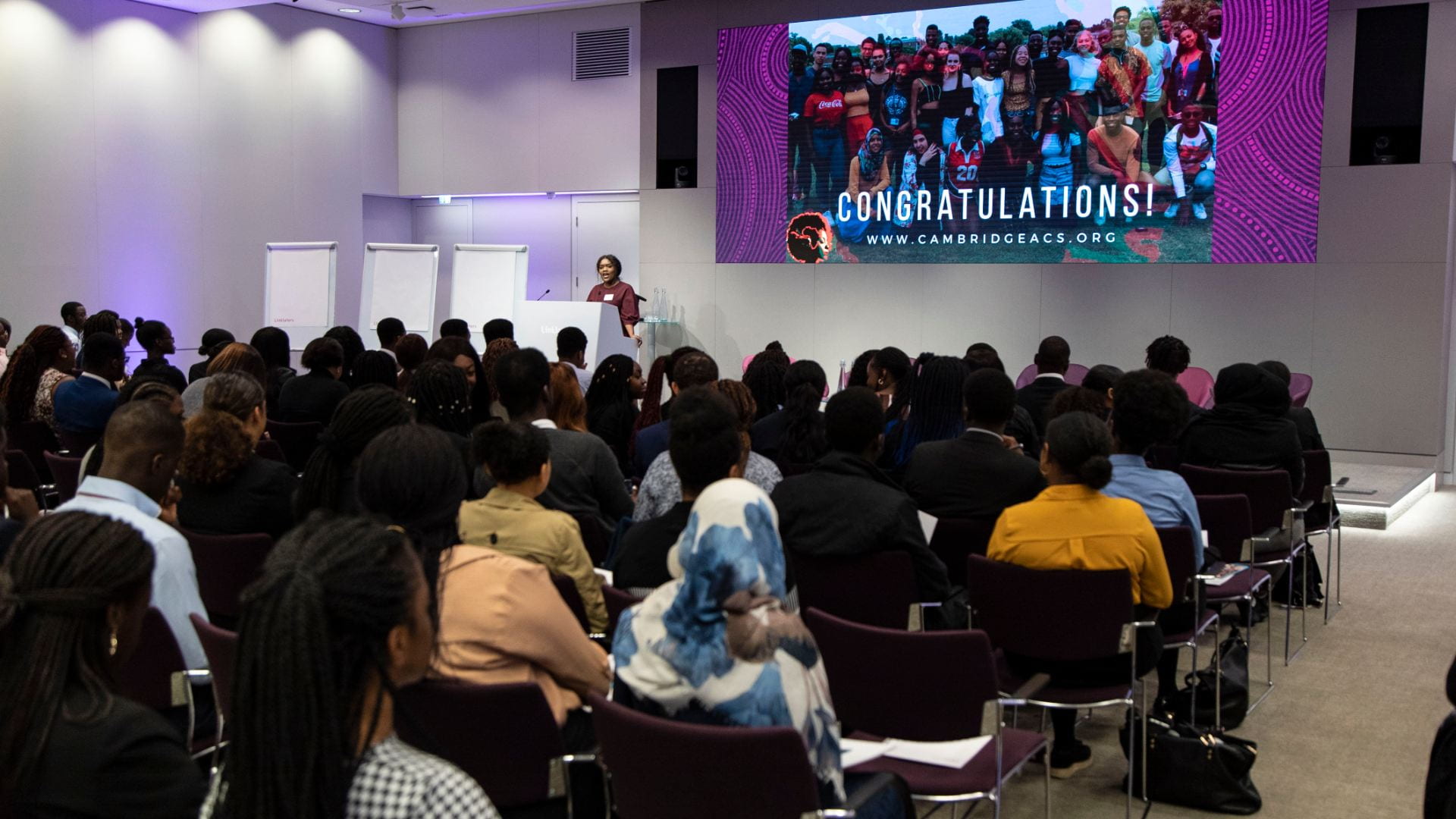 You're a co-founder of Trinity's Succession exhibition, to mark Black History Month. Describe how this came about and the response it's received so far.
The exhibition came together in quite an organic way. Fiona Holland – Trinity's Communications Officer, who I have loved working with over the past 3 years– reached out to me and asked if I'd be interested in helping to organise Trinity's first ever Black History Month celebrations. Of course, I was excited to get on board and was also aware of what an impact this could have on the Trinity community and also those who might be considering becoming a part of it.
Along with a team comprised of 3 members of staff and one other student – Serena Cole – we came up with the concept over some months. The exhibition and film were part of a wider celebration which included a film screening and an in-conversation with Benjamin Zephaniah and Ben Okri.
For the exhibition, we found an incredible Black photographer named Henry Kamara, who took all the photos on an old film camera. I think he perfectly captured the real significance of what we were doing in a college which, when I joined in 2018, had only 6 black undergraduates out of 800. We decided to call the exhibition 'Succession' to symbolise Trinity's growth and change in so many different ways. The College now has 14 black undergraduates, which may seem like a modest increase but took a lot of hard work, and is definitely a step in the right direction that I am proud to have contributed to. We also made a short film which featured some of the black students talking candidly about their experiences at Trinity, from access work to fitting in. it was so beautiful to be able to talk about so many things so openly and to have that backed by College!
As far as I know, the exhibition has been received really well. The Permanent Secretary at the Department for Education, Susan Acland-Hood, saw the exhibition when she came to Trinity and she told me she was very impressed and moved by It, so I think that's a good sign!
You've achieved so much during your time at university – what are your plans for beyond Cambridge?
I'll be starting my Legal Practice Course (LPC) at BPP in London in February 2022 and then commencing a Training Contract with Clifford Chance in August of that year! I was quite lucky because I managed to get my TC in first year through Clifford Chance's SPARK scheme, which gave me time to relax from job hunting and focus on doing other things I enjoyed aside from my degree! Long term, I'm not sure exactly what the future holds; I'm the sort of person who dreams up 20 different life paths at once. Some of those include living and working in Zambia (where I'm from), some include media, others include human rights work… I guess you'll just have to keep your eyes peeled to see which one eventualises!
For more information on the University's African-Caribbean Society you can check their website. Blog header photo by Henry Kamara for the Succession exhibit.