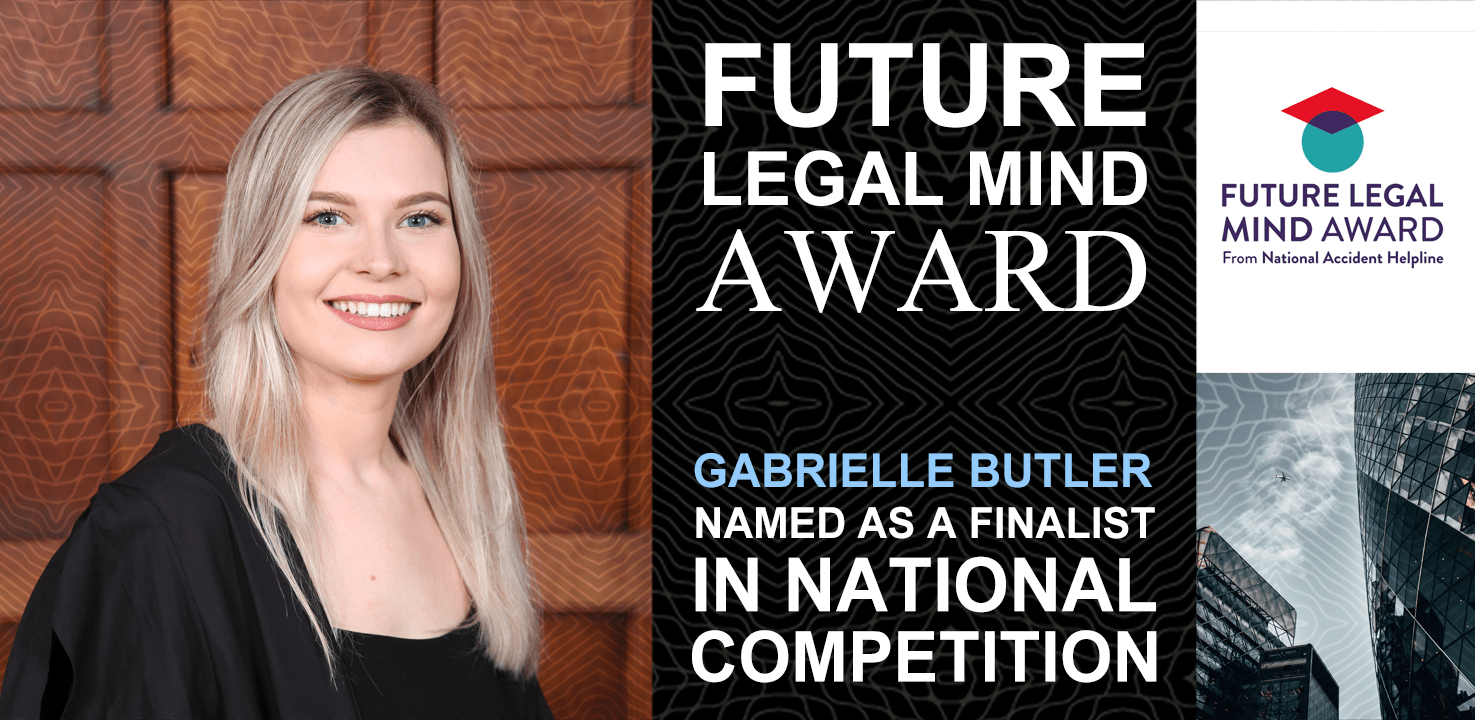 Gabrielle Butler, a first year Law student at Emmanuel college, has beaten competition from across the country to be named as a finalist in an annual law competition. She shared with us her thoughts on the experience, her essay, and her future plans
Gabrielle, 19, submitted her essay alongside law students and legal trainees nationwide and has been named as one of 10 finalists in National Accident Helpline's annual Future Legal Mind Award 2021.
Now in its seventh year, a record number of entries were received for the competition this year. Past winners have gone on to become barristers and solicitors. Last year's winner, Joseph Kelen, also studied Law at Cambridge and is now taking the Bar Vocational Course.
Gabrielle is a first-year Law student, who was prompted into studying law when she learnt about the Trump Administration's sustained attack on the rights of transgender individuals in the USA. In the future she hopes to become a solicitor, to be able to help and advise others on how the law can empower and protect them.
In her essay she argued that victims of sexual violence are "routinely abandoned" by the law, which is in "urgent need of reform" in order to increase women's access to justice after experiencing sexual violence.
What Gabrielle had to say about the opportunity
Though surprised, I feel honoured and incredibly happy to have been named on the shortlist. As someone who is only in the first year of my Law degree, I feel especially proud to have become a finalist of such a reputable competition.
I decided to enter the competition after seeing the essay question on Facebook, and being instantly interested by it. To me, entering felt like a great opportunity to talk about an area of law that I'm really passionate about, as all of our first-year modules are compulsory, so it's quite rare that I get to write about something that I have such strong feelings about.
It means a lot to be shortlisted, as it's really great to have my thoughts about a topic that I care about so much recognised. I also think that the 'imposter syndrome' at Cambridge can be really difficult to overcome at times, so it's really reassuring and exciting to have my work recognised in such a reputable competition.
In my essay, I chose to write particularly about women's access to justice after experiencing sexual violence, as I feel that it is an area of the law that is desperately in need of reform. It's truly worrying to me that after experiencing something so horrific, victims of sexual violence are often left with no solution, and are instead expected to simply accept what has happened to them. Rape convictions are upsettingly low, and the discourses of victim-blaming and disbelief surrounding discussions about sexual violence mean that many victims don't try to pursue legal courses of action at all. The law, which should protect these victims, and should help to provide them with the justice that they deserve, continues to fail them routinely. The murder of Sarah Everard (which occurred after I submitted my entry) further reinforced my anger and frustration, only confirming what I already knew – that the law is failing women.
I'm not yet sure which area of law that I want to go into, but after university, I hope to become a solicitor. I'm very enthusiastic to gain a training contract with a firm that offers a pro bono seat, so that whilst training to be a solicitor, I'll also be able to do some pro bono work, as this is really appealing to me.
Each of the Future Legal Mind finalists has recorded a video explaining why they should be named the winner. To watch Gabrielle's video, visit https://bit.ly/3nB05e4.
Will Herbertson, Marketing and Strategy Director, NAHL Group, said: "Gabrielle clearly feels passionately about challenging laws that discriminate against minority groups. We wish her the best of luck for the final."
We spoke to the previous winner, Joseph, about his experience in the competition and future career plans after he won last year. You can read his story on our blog.
Gabrielle came as one of two runner ups to the grand prize with her essay, winning herself £250 and mentorship from two experienced lawyers. Find out more on National Accident Helpline's website.