We're back with part 2 of our Lent Term 2022 programme! After the success of out Creative Careers Festival we have two more plus our skill sessions and other events. Read on to find out what's happening next.

You can make the most of the Careers Service this term by:
Completing your Handshake Profile and Career Interests with as much detail as you can. This will enable our careers advisers to send you tailored updates and event notifications.
Exploring the Career Centre to access our resources and appointments.
Below is a flavour of what we've got coming up. Find our full range of sessions and panels via the Events section. Check in regularly as new events are added all the time!
Don't miss our careers events this term – they only take place once each academic year and are the only official University events of their kind. We have a mix of virtual and in-person events and you can discover more and register via Handshake.

International Development & Charities Festival | Tuesday 14 February – Thursday 24 February
Our first ever International Development & Charities Festival starts Tuesday the 14 February with over a week of events, workshops and resources covering these two industries. Find out what we'll be covering and when on our website, or follow us on Facebook for regular updates. ✨🌍
You can also search 'International Development & Charities Festival' on the Events section in Handshake to see all the upcoming events.
Green Careers Festival | Monday 28 February – Friday 11 March
The Green Careers Fair is back, Tuesday 8 March, but this time we've extended it into a festival of events and videos including 2 live preparation sessions for the Fair. We'll have more information on what else will be included in the next week so be sure to look back here or follow us on Facebook or Twitter for regular updates. 🌱
Once more events are added to Handshake you'll be able to search 'Green Festival' on the Events section in Handshake to see what's coming up.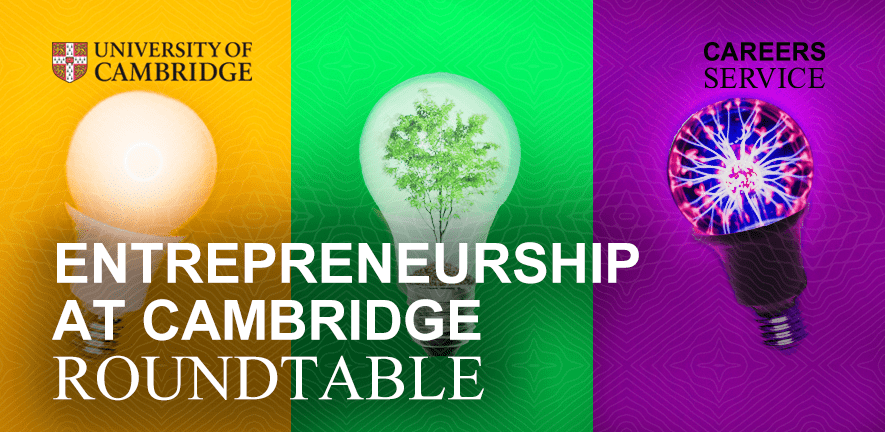 Entrepreneurship at Cambridge Roundtable  | Tuesday 22 February, 6-7:15pm
This new roundtable – which features key contributors to the entrepreneurial landscape in Cambridge, accompanied by a new 'Entrepreneurship at Cambridge' guide, will give both the information you need to get started with your own innovations and an opportunity to hear from those people living and breathing entrepreneurship at Cambridge.
Research Careers in Banking, Finance and Consultancy Panel  | Thursday 3 March, 6-7:15pm
A new specialist panel for those interested in keeping their research skills at the heart of their career and have an interest in working in banking, finance, and/or consulting. Suitable for any student with an interest in this, there'll be opportunity to ask questions at the end of the panel.
Our Career Essentials programme is back for Lent term!
There's new sessions covering everything you need to know about careers and further study, each in different themed weeks.
Find out what's happening by searching for 'Career Essentials' in the Events section of Handshake! You'll be able to see all the available sessions and sign up for them. Places are limited so sign up quick.
Missed out on the Creative Careers Festival? 
Our Creative Careers Festival wrapped up this week after three weeks of fantastic events and resources. Don't worry if you missed out on anything, you can view recordings of all the events and some exclusive video only conversations on our YouTube here. You can also check out our online resources on various careers and book in for a consultation at any time.
We're currently looking into how and where we can deliver our careers appointments this year and want to hear from you! Fill in this short survey on Handshake to tell us what you would find most useful.
We hope you find this useful, do let us know if you have any queries by emailing enquiries@careers.cam.ac.uk