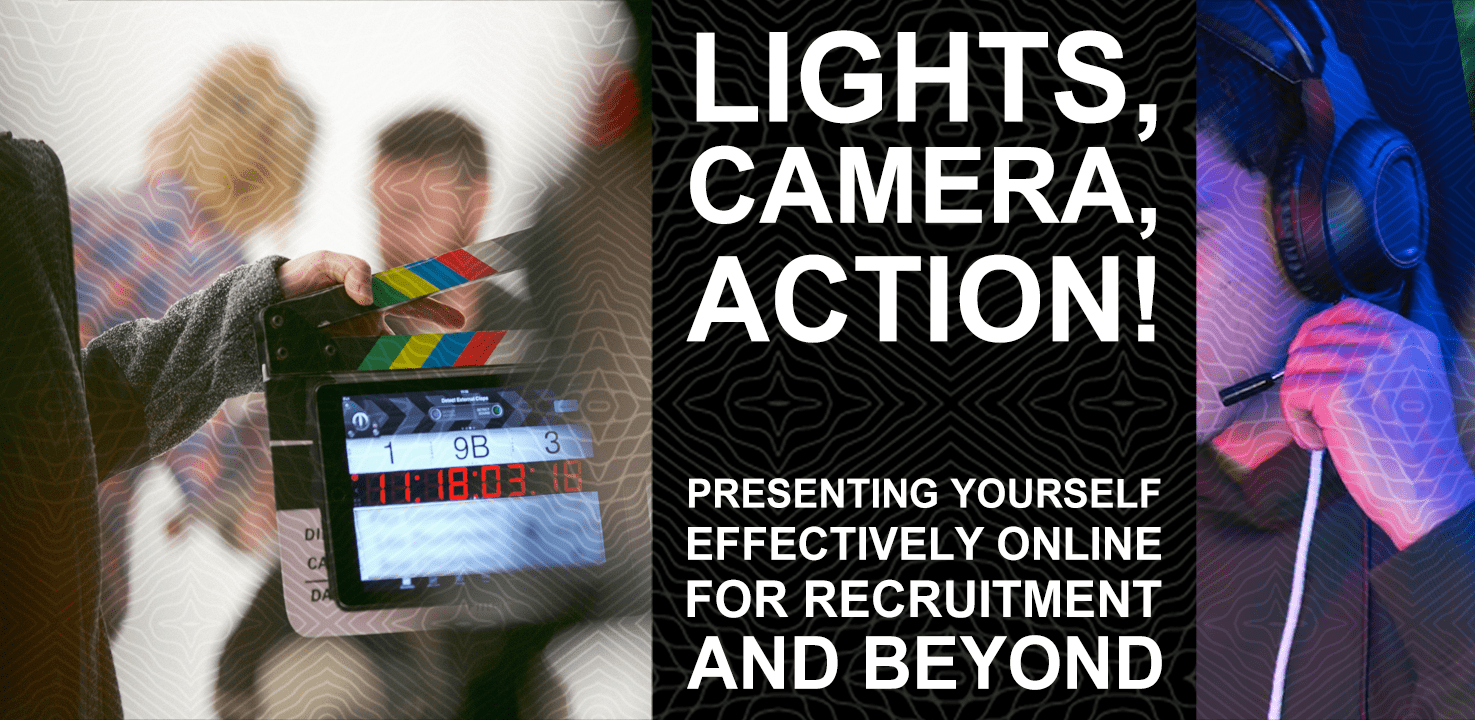 Careers Consultant, Lucy Romijn shares her advice on how to present your best self to employers in an increasingly online recruitment world
With Shortlist.Me reporting 52% of graduate employers using video interviews in their recruitment, the use of virtual assessment centres and online panel interviews here to stay and hybrid working increasingly the norm, how you present yourself online has never been more important. Our Careers Consultants share tips and resources to help you step up your online presence.
Lights: Setting the Scene
Lighting and backgrounds can make a dramatic difference to virtual interactions. Before you join a call or record a video interview, take a quick look around you.
Check your seating position. A window behind you can cast you into silhouette making it tricky to see you. If you're facing a window, check that the light isn't too bright, this can make you fade into your background or reflect from your glasses obscuring your face.
Sometimes you just need to switch on the lights, but check your lighting is bright enough to be seen, doesn't cast too many shadows and is comfortable so you can see your screen. Nobody wants eye strain!
Aim for a neutral, clutter free background wherever possible so you don't distract your audience and can convey a professional image. Most platforms have a blur or virtual background feature, but some work better than others if you move around.
Camera (and microphone): ensuring you can be seen and heard.
You don't need hi-tech equipment to be seen and heard effectively, there's many simple steps to optimise your default set up!
Your camera angle should have you looking straight on, with your head and shoulders in the middle of the frame. If using a laptop, it's easy to end up hunching over the screen with the video showing you from below, not the most comfortable or flattering! Prop your laptop up on some books to get the camera at the right height, and push it back so it's not too close.
When using a laptop or tablet, the built in speakers and microphone often create an echo effect which can distort what others hear. Use headphones so that any audio doesn't get picked up by your microphone, ensuring you can be heard.
Testing your sound can make a significant impact on the quality of an online interaction. Change the microphone sensitivity settings on your computer if you find your mic is picking up a lot of background noise or is making you sound very loud/quiet. If using headphones that include a mic, check whether the sound is muffled by your hair or clothing.
don't be afraid to demonstrate your leadership skills by asking others to introduce themselves and kicking off the discussion with some agreement on how you'd like to interact
Action: Engaging your audience.
Without all the usual cues of body language, engaging your audience online can feel tricky. Do you look at the camera or the screen? What do you do when there isn't anybody on the other end of the call? How do you stop people interrupting one another in group discussions?
If you're delivering a presentation or recording a video interview, looking directly at the camera will give a similar impression to making eye contact with an in person audience. Try not to be tempted to look away from the camera or read from your notes. Practice makes perfect with this one, it can help to record yourself, enlist a friend or book an interview preparation appointment with The Careers Service first to get some feedback and build your confidence.
If you're in a panel interview or group discussion, looking at the participants on your screen may feel more natural and enable you to pick up cues from their facial expressions and body language.
During group discussions, for example as part of an assessment centre, don't be afraid to demonstrate your leadership skills by asking others to introduce themselves and kicking off the discussion with some agreement on how you'd like to interact. Would you like people to use a raise hand function, or perhaps you'd like to nominate a chair? This will help everybody to interact effectively and have an opportunity to speak up.
Check out this LinkedIn Learning course for more tips and advice on engaging your audience, perfecting your body language, and setting up your space for effective video calls
If you have an interview coming up, whether pre-recorded, live or in person, use Shortlist.Me to practice answering employer validated interview questions! You can watch yourself back to get a sense of how you're coming across and identify action points.
If you have a disability and are unsure about adjustments for online assessment, check out our blog on disability and video interviews. You're always welcome to speak to a Careers Consultant for additional support.
Our Career Essentials 'Succeeding at Assessment Centres' videos introduce you to different types of assessment and how to prepare, or learn more about virtual assessment centres in our blog!
Internet Connections and Networks
When things don't go to plan, it's undeniably stressful. Here are a few steps you can take in advance to minimise risk and help you to manage any problems calmly and efficiently.
Sometimes the internet connection goes down, this can't be helped. Ensure you have the relevant contact details and joining links to hand during your meeting or interview. In the event that you get disconnected, you can get in touch quickly to explain what's happened or re-join without having to go searching through your inbox.
Test your connection in advance of any important interactions. If you find your network quality is unstable, investing a couple of pounds in an Ethernet cable for a more stable, wired connection can help.
If you're unable to plug in, you might find a more stable connection using a mobile device's WiFi hotspot or booking into a meeting room in your College or Department. If at home, you might need to kindly ask housemates or family to refrain from using any bandwidth heavy devices.
Additional Resources for Managing Online Interactions
Do you find interacting online drains your energy? This LinkedIn learning course provides some good insight into how to manage and conserve your energy while communicating with impact in virtual interactions.
If you're feeling the digital fatigue, here are 5 ways to break the digital cycle while boosting your career planning.
We hope you found this helpful, if you have any questions do get in touch at enquiries@careers.cam.ac.uk