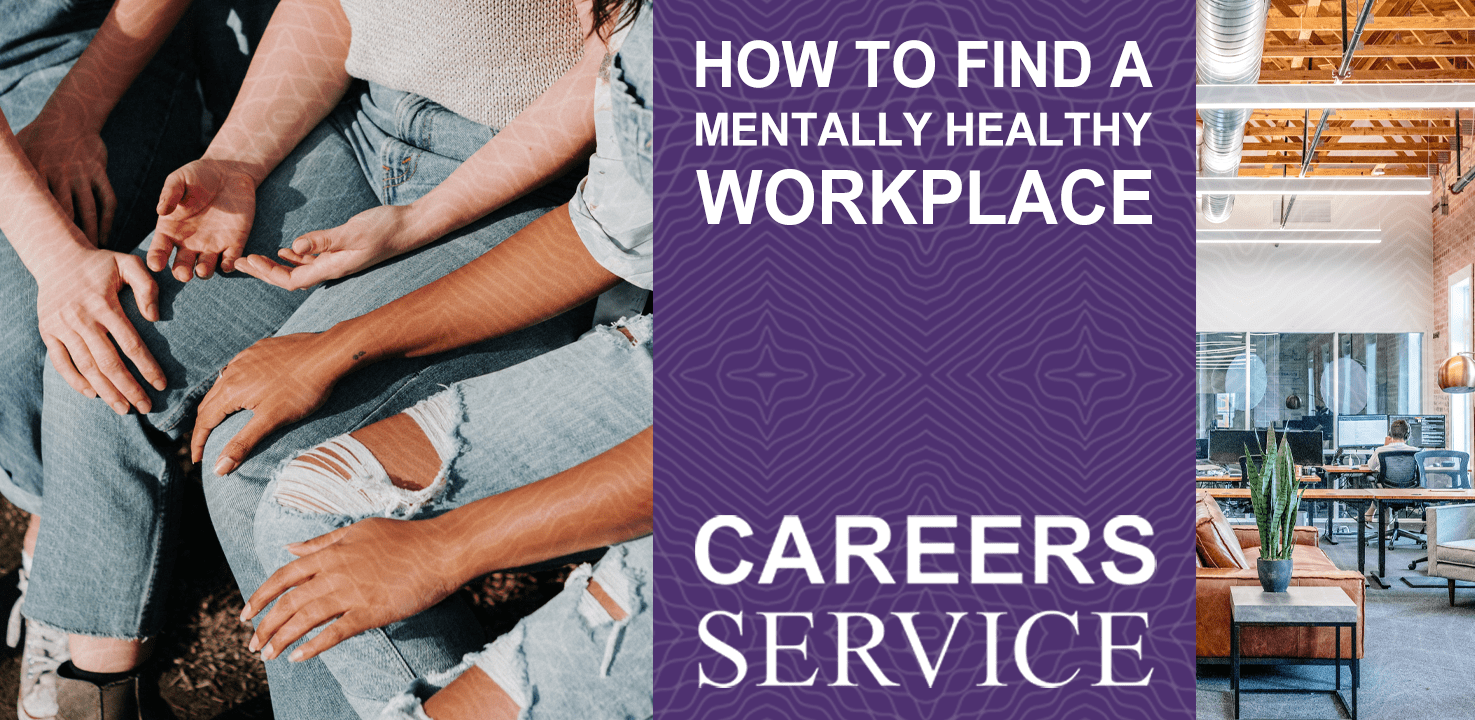 Having

a good work

life balance and finding a mentally healthy workplace is

high up on many student

s

' wish list for their career

.

This blog explores what we mean by a mentally healthy workplace and how you can find out

if an organisation will

provide

one
From the employer's perspective a mentally healthy workforce is one that thrives, is more engaged with their work, has higher levels of job satisfaction and is therefore more productive.  This means staff stay longer which decreases turnover and recruitment costs.  It's a win win for both employer and employee.  
Many organisations have a short paragraph on their website or recruitment materials stating that they are proactive about disability and welcome applications from across all protected characteristics including disability.  But how do you know if a workplace is going to be mentally healthy when you're actually working in it?  
What is a mentally healthy workplace?
Very broadly, a mentally healthy workplace is one that: 
promotes workplace practices that support positive mental health

 

builds the knowledge, skills and capabilities of all workers to be resilient and thrive at work

 

is free of stigma and discrimination

 

is open to discussions about mental health and supporting it

 

supports the recovery of workers returning after a physical or psychological injury.

 
In other words, a workplace where everyone is aware, and believes, that wellbeing is important for all staff and takes action accordingly.   
A mentally healthy physical work environment is one with enough space to move and think.  They might have plants and lots of natural light as well as areas for different activities – somewhere to go if you want a quiet space, or to have meetings without disturbing others.  A separate area for breaks and lunch so you don't have to eat at your desk. 
Don't expect too much though.  There are a few work environments on social media with yoga studios, games spaces, massage chairs, smoothie bars etc – these organisations are extremely rare! Many small organisations have very limited office space.  
Think about what a mentally healthy workplace looks like for you.
 Different people are impacted by different things.  For one person, continuous professional development with regular checks with managers to make sure these goals were being met would be important.  They might feel cared for by their managers and need that sense of progression for their wellbeing.  For some other people this may be perceived as a constant pressure to perform and prove that they were good enough to remain in their role.   
Working from home a lot of the time can be an enormous help in managing anxiety for some.  For others it might lead to a sense of isolation and low mood. 
Similarly, a large workload, keeping busy with a lot of responsibility suits some people whereas others prefer a slower start to their career with more time to develop at their own pace.    
Think about the ways of working and the work environment that would be healthy for you.  When you're looking at different jobs you can ask the right questions to see if it would be a good wellbeing fit for you. 
How to find out about wellbeing at work:
At Open Days look around you to see what the physical work environment is like.  How close are desks, are they rise/fall desks?  Do staff look happy at their work?  Is there enough natural light?  Can you imagine yourself working there? 
Ask questions when you're researching a company talking to an alum, at employer presentations or networking events:   
Typically how many people share an office? 

 

Are there quiet spaces if you need to concentrate?  

 

What are the social aspects of the workplace?  

 

Where can you find their policies about wellbeing?

 

Are they flexible about hybrid working?

 

Ask about anything you know will impact your wellbeing

 
 You don't have to share your own mental health situation to ask questions like these.  If anyone is surprised, you honestly can say you're getting a feel for whether wellbeing is a priority at the organisation.  The person you're talking to may not have all the answers but they should know where to direct you to get the information you need. 
How prominent are wellbeing policies and initiatives at the firm?
Many of the larger corporate firms have very easily found wellbeing policies, networks, flexible working and even funding for employees to spend on their wellbeing. E.g. EY Worklife Balance and Health/Wellbeing initiatives.   Not all will be this comprehensive but look for indications like this on employer websites. 
Smaller firms won't have the budget to offer this range of wellbeing options but find out about flexible hours and hybrid working.  
Look out for whether an organisation has signed up to disability schemes like: 
Don't forget – having mentally healthy employees is a good thing for organisations so don't be afraid to ask questions about it! 
"No job is worth sacrificing your mental health for"