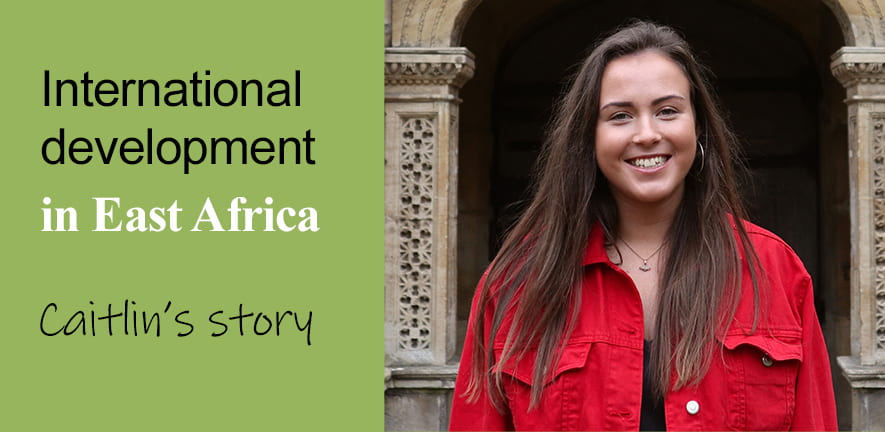 Caitlin Buckley, a finalist in Psychology and Behavioural Sciences from Gonville and Caius College, reflects on her time working for a grassroots international development charity
During the summer holidays of my first year I travelled out to Uganda as a project worker with the charity Education Partnerships Africa.
I had the most amazing time, gaining first-hand experience of grassroots international development, making life-long friends and developing myself professionally and personally. EPAfrica is a volunteer-run organisation that works in partnership with rural secondary schools in Kenya and Uganda to sustainably invest in educational infrastructure. The EPAfrica model attracted me because they place a huge emphasis on sustainability, partnership and impact – standing out from other similar summer programmes,
As a project worker, I spent ten weeks living in a secondary school in rural Western Uganda with my two project partners, also Cambridge students. Working in partnership with the school, we spent this time designing and implementing a programme of sustainable investment using our fundraised money. This included researching the issues faced by rural schools in Uganda, deciding how to make our investments sustainable and impactful, and negotiating with contractors. Some of the projects we undertook included: establishing a school alumni network, renovating the school lorry, installing a sick bay, renovating a science classroom, and putting on health and careers days for the students.
One of the reasons I applied to volunteer with EPAfrica was because I've always wanted to explore East Africa. During my holiday week I was able to travel around other parts of Uganda and Rwanda, which was amazing and such a unique opportunity.
As a project worker, 'typical' days were not a thing.
Each day was so varied, with new challenges popping up all the time. The unpredictability of each day was one of my favourite things about the summer! Most days we would get to the school for 9am and chat to staff and students, before starting work for the day. At the start of the project this would include interviewing staff and students, as well as analysing school data, to identify the areas of need within the school. As the project progressed we would spend our days meeting and negotiating with contractors, updating the budget and project planner, and supervising any construction work. We also spent time visiting past EPAfrica schools to understand previous projects and the impact they'd had for the students. Most days we'd finish working around 5pm, spending the evenings eating dinner and socialising with the teachers. At weekends I was free to travel and explore the local area.
By far the most interesting aspect of my experience was getting to learn so much about Ugandan culture.
Living with our headteacher for ten weeks was great and meant that we could really get involved in events going on in the local community. Coming from no experience in international development or project management, I found the project itself challenging at times, especially trying to negotiate with contractors without much knowledge of the construction industry. It was a really steep learning curve, but the specialist training and support I received from EPAfrica meant that I was able to implement successful, sustainable and impactful projects. I came away from summer feeling on cloud nine – having undergone huge personal and professional development and making a real impact to the educational infrastructure in my partner school.
I'm confident my project worker experience played a major role in my being offered a summer internship for the next year.
The autonomy EPAfrica gives you as a project worker is great, and it really allowed me to develop loads of different skills such as project management, presentation skills, teamwork, negotiation and problem-solving.  After completing my internship, I returned to East Africa with EPAfrica, working as a project coordinator in their Kenyan site. This was fab, because I got to work more in the monitoring and evaluation side of the charity, monitoring the impact of projects implemented in previous years. I'm currently the president of EPAfrica in Cambridge which is great, as it means I'm directly involved in recruiting Cambridge students for the Summer 2020 project! I honestly had the best summer of my life volunteering with EPAfrica as a project worker, and if this sounds like something you'd enjoy, I couldn't recommend it more.
For more advice and inspiration on international development careers, follow this link to our website