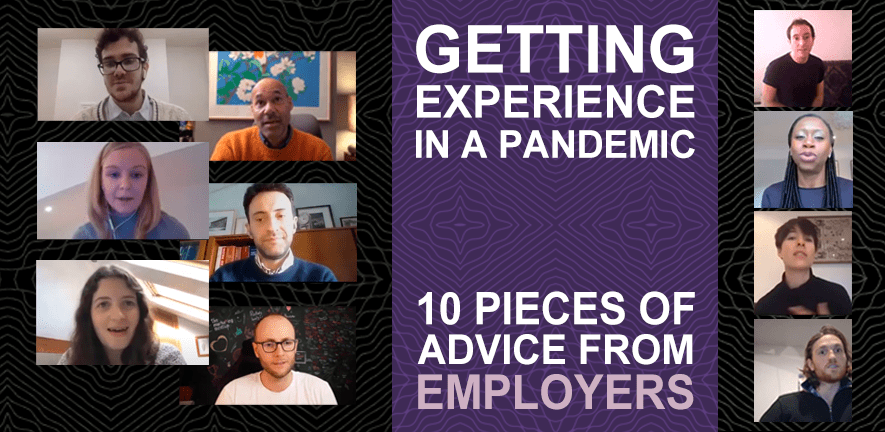 Emily Packer, Careers Adviser here at the CS, has created a video containing key advice on finding work experience during the pandemic, from various employers, and brought you 10 of the key points in this blog
It is easy to feel that you are the only one who doesn't have everything worked out. Perhaps you didn't get the experience you hoped for, perhaps the sector you were aiming to work in got completely shut-down.
In December 2020 Careers Advisers at the service shared advice on work experience in our blog – now we return with advice from our employers. Knowing just how important this topic is to our community, over the past year we asked our employers how people can approach getting work experience in a pandemic, and beyond.
So, if you are curious about what people in industry think of your CV (and how to fill it) you can enjoy our short film. The sectors featured cover: Environment, Law, Social Innovation, Media, Film, Policy, Broadcasting, Publishing, Museums and Marketing – though we do encourage you to think outside of your sector interest as the advice is valuable to everyone.
If you can't find opportunities that someone else will give you, then do it yourself
To accompany the film, we have selected 10 key points of advice on getting 'on' and 'in' to experience, approaching employers and evidencing your genuine interest (without experience), right now:
You are not alone: "I don't think that anyone in this industry would see this as a gap in the CV […] no one is going to be looking at your CV thinking 'why didn't they get a job in the Summer of 2020'. We know, and it's okay" Ellie Gould, 2VC
Keep it simple: "Anything that shows you haven't been sat in front of Netflix for 9 months is a good thing" Clare Rodgers, National Environment Agency
Don't underestimate your own projects: "If you can't find opportunities that someone else will give you, then do it yourself […] the opportunity to create something for yourself is also always there, should you need it"   Joe Glover, The Marketing Meet-up & Empath Marketing
You have nothing to lose by reaching out to people: "I think a lot of people feel a bit shy or worried about intruding into people's time, and I always say to them 'the worst thing that can happen to you is that no one gets back to you, which is totally fine – you can always move on'" Federico Andornino, Orion Books
Don't lose your passion: "Do stuff that you are passionate about because [you will always meet people who can] introduce you to someone else. As long as you keep walking and you are doing something that you believe in, opportunities will emerge. That is for sure" Danilo Garrido, Environmental Lawyer
Research to evidence interest: "I think doing your research is really, really important – so I think someone who comes with a knowledge of the industry is going to look much more impressive" Basi Akpabio, Agatha Christie Ltd.
Showcase your values: "Most social ventures are values-led, so they will only take on somebody that shares their values. So you need to be able to speak with some authority about why you are a good match into that organisation […] then be very clear as to what skillset you can bring, and how that's going to add value to what they are already doing" Christine Kinnear, With Insight Education
Be selective: "[Don't] go scattergun […] I think that's really important, to actually tailor [your application] – and really to pursue a few things, rather than too many" Loic Menzies, The Centre for Education & Youth
Align your intentions: "Approach organisations that excite and interest you, with a clear idea of where you might be able to support them and what you might like to learn" Daisy Jacobs, Routes
Offer your expertise: "If someone comes to me with specific things they can offer – whether it is small projects to start off with, or maybe they have seen something we are doing that they can help with…if it is a specific thing that I know is going to help… that can be quite a good way in" Max Girardeau, The Visionaries
All the snippets included in our video montage are taken from the various panels, conversations and interviews that members of the Careers Service hosted across the academic year, so far.
If you want to hear extended advice from the speakers you can watch their full interviews. As they pop up on screen they are accompanied by the name of the video where you can hear more. All of our speakers have longer interviews featured on our YouTube channel.
You can visit our Careers Essentials and 'Past Talks' pages to get much support with your career planning and sector advice. We have support available for all levels of study, from your first year to PostDocs and Alumni – just use the drop-down menu on our homepage, under 'Who are you?' to get information on the support services available.
We hope you find this useful, do let us know if you have any queries by emailing enquiries@careers.cam.ac.uk and click the image below to check out our previous blog on this topic.