Students share their experiences of getting involved with the Cambridge Hub Social Innovation Programme in Michaelmas term
The Social Innovation Programme (SIP) is a partnership initiative between Cambridge Hub and the Careers Service offering students, including PhDs and MBAs, the chance to address challenges in the local area through research, idea generation and project development. Students work in teams alongside a local social organisation or initiative, acting as external consultants to propose and implement an innovative solution to a problem. SIPs run for six weeks during term, and applications open early in Michaelmas and Lent terms.
Q&A with Phoebe Jarvis, a final year Natural Sciences student from Clare College
Project: The Obliquity Group
What attracted you to get involved with Cambridge Hub?
I first heard about Cambridge Hub at freshers' fair in my third year. I was immediately attracted to the organisation as I was hoping to find a society that would give me a taste of consulting, as well as allow me to do something socially meaningful in the community after two years of focusing on my academic work.
What made the Social Innovation Programme a great experience?
Our client, The Obliquity Group, asked us to support them in increasing the usability and awareness of their non-profit online platform, JustComments, in the hope of stimulating individuals to think and discuss their experience of corporate social responsibility and sustainability. Their approach is entirely unique, as currently the corporate world is adopting a very 'top-down' approach to these issues, appointing specific sustainability leaders to direct initiatives to meet sustainability development goals and other performance indicators. However, JustComments highlights the value that the insight of an ordinary employee holds in regard to the true sustainability status of a corporation. This has made it a very engaging project as it was such a challenging feat to build the roots of awareness and engagement amongst ordinarily unconcerned individuals — and what an environmentally and socially impacting feat it will be if their mission follows through!
Do you feel that it has made you more employable?
Cambridge Hub has offered a lot of direction and training throughout the project which has guided our approach, and supported us in making sure we can deliver to the client within the time-frame given. I personally hope to improve my public speaking through both the Cambridge Hub training scheme offered, and during the final presentation, in order to build my confidence in presenting in a professional setting.
Rosie and Mudra, who were also involved in SIP, share their insights…
This is a great chance to pick up some new skills and an achievement for your CV. But even more importantly it's a chance to make a difference in a way that's really going to be appreciated. Our partners were genuinely really inspired by the work we did – their reaction was the real highlight for me. I look forward to seeing how their venture develops – it feels like our work has more legacy than just a one-term project.
– Rosie Wright, MSt in Social Innovation, Darwin College. Project: Just Comments: A 'trip advisor' style review platform for organisational sustainability
I was keen to participate in an activity that would allow me to engage with the greater Cambridge community, hence Cambridge Hub's social responsibility focus attracted me. Furthermore, I am considering applying to industries which require team and client focused skills, such as law and consultancy, Cambridge Hub offered me an opportunity to develop these skills.
– Mudra Kashyap, studying Law at Newnham College. Project: University of Cambridge Environment and Energy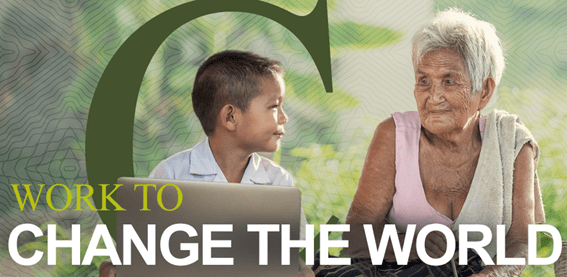 For a great opportunity to speak informally to Cambridge Hub representatives, come along to Work to Change the World at the University Centre on 12 February