Liam Buckley, a graduate in Russian and French from Downing College, discusses his experiences from an internship at the UN Economic Commission for Europe
Hi Liam! Tell us a bit about yourself.
My name is Liam Buckley, I studied Russian and French at Downing (2015-2019). I leaned more towards Russian after second year, and spent my year abroad in St Petersburg. Having an interest in foreign affairs and politics, I spent this time studying International Relations (something I would highly recommend to those who feel an MML degree can compel you to spend a little too much time in previous centuries!)
Describe your internship at the UNECE – what did you do, day-to-day?
I started my United Nations internship in Geneva a couple of months after graduation, at a body called the UN Economic Commission for Europe (UNECE). I worked in the Housing, Urban Development and Land Management Unit. The unit deals with issues regarding housing and urban policy, and broadly seeks to answer the question 'how can cities in Europe become more sustainable?'
On a daily basis, I was working in the Palais de Nations in Geneva. The first month was largely spent assisting with the organisation of a large annual meeting that the unit hosts. There was ample opportunity to use my languages during the internship, and a large part of the work that I did involved translating material into Russian and French (these two languages in particular are used in the UNECE), as well as lots of proof-reading, as native English speakers can be much-valued. Beyond translation, I was interested in a project that was in its early stages on Housing Affordability in Europe, and was given the chance to contribute to some early research and literature review on the subject.
The chance to see how a large international organisation like the UN functions has been invaluable
How do you see this fitting in with your career aspirations?
Whilst my vision for the future is far from lucid, I'm certainly interested in a career related to policy research and/or foreign affairs. There's no doubt that this internship provided some relevant experience in both of these. The chance to see how a large international organisation like the UN functions has been invaluable (and eye-opening in every sense), and seeing the process of how research can ultimately translate to concrete government policies was very useful when it comes to understanding the processes by which change can be brought about.
Isn't it difficult to get into the UN? How did you fix this up?
The process by which I was offered the internship was very simple. It was advertised on the Cambridge Careers Service website and explicitly mentioned my languages, so I sent an email through to the head of the Unit with a CV. I was asked to fill out an application instead, via the dedicated UN applications site, Inspira. This site can seem initially somewhat counter-intuitive, and asks you to fill out your history in an idiosyncratic system of forms without a CV. For instance, some mandatory boxes were not relevant or applicable to freshly graduated students – my advice is just to fill it out as accurately as possible and not to worry if some information seems incongruous; I found that within the UN it was well established that Inspira is something of an imperfect beast. There is a final section to supply a letter of motivation. Following my submission of the Inspira application, I had a Skype interview with my would-be Supervisor, and the rest is history.
How did it feel to graduate from Cambridge and move to one of the world's most expensive cities and work unpaid…?
I would be lying if I said that this wasn't slightly frustrating at times. It's important to note, however, that this is not the same across all UN bodies and not all UN internships are unpaid. I would strongly encourage anyone actively seeking an internship at the UN and UN-affiliated organisations to Google the 'Fair Internship Initiative', as they have easily accessible data on which bodies pay their interns and which do not. The intern community itself is fantastic and very international, and filled with people in a similar position. The people I met through it very much positively contributed to my experience as a whole. Regarding accommodation, single rooms are very frequently advertised on local sites ('GLocals') and Facebook groups (which is how I found my flat).
there can be great benefit in throwing yourself into something that you have had no previous experience in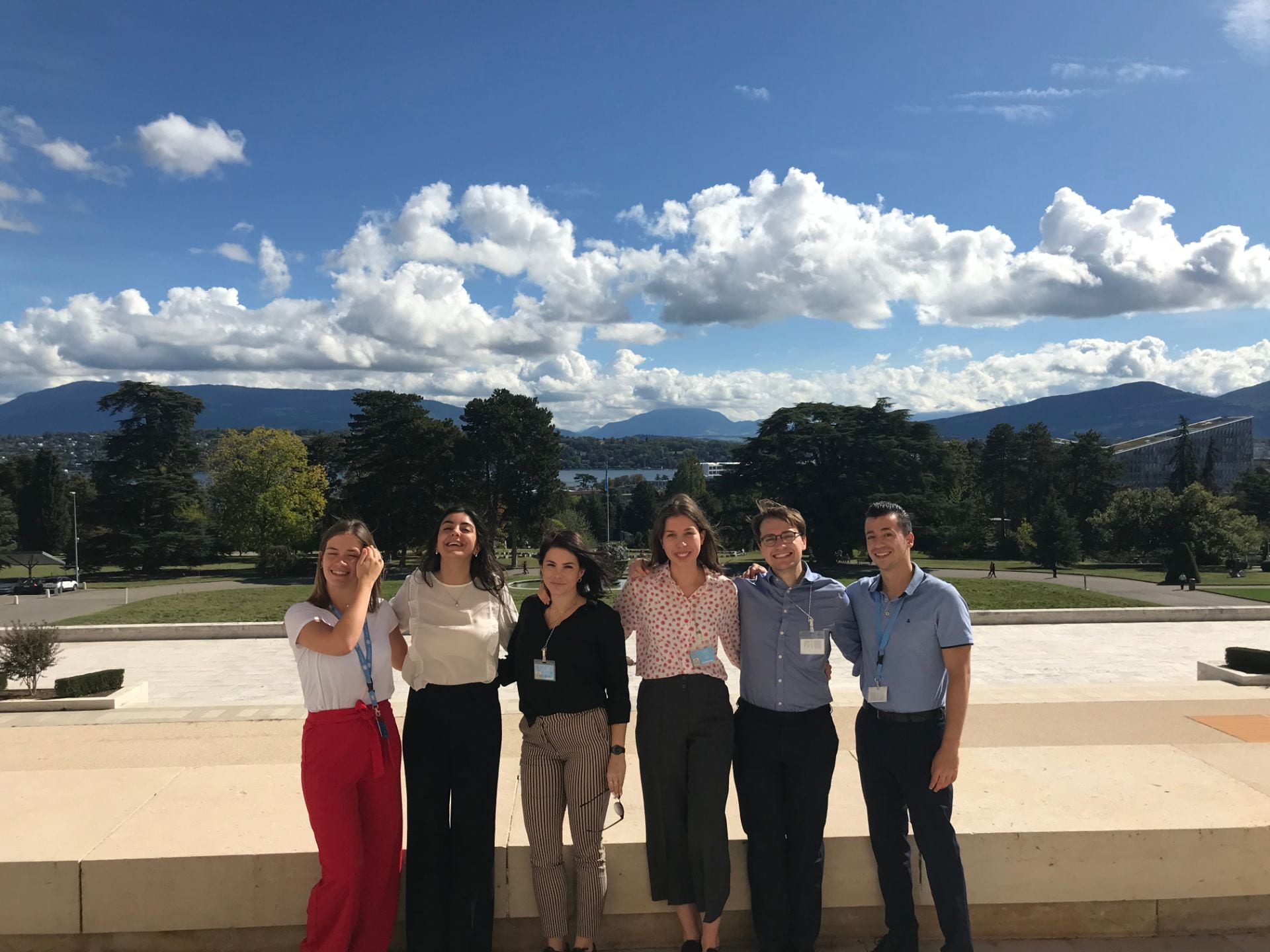 Has it been worth it so far?
I certainly am glad I've had the opportunity to do this internship. The chance to learn about both subject area and a sector that I previously had no experience in was invaluable. However, I don't know if I'd have liked to stay as an intern for the whole six-month stint – I found very few people who did stay for that long, so don't be put off applying if you know you can only stay for a couple of months. I was very lucky with the team I ended up in, who gave me real responsibility and threw me in the deep end – so for me the internship was absolutely worth it.
Did you use the Careers Service when you were at Cambridge?
I did use the Careers Service when I was at Cambridge, but perhaps not as much as I should have. I attended relevant talks/fairs and had a one-on-one appointment, but if I'm perfectly honest I invested much more time and energy into my degree than I did into thinking about what I'd do afterwards. The online listings of positions were the aspect of the service that I engaged with most regularly, and they proved most helpful for me.
What advice do you have for students with similar career aspirations?
For people interested in similar fields and sectors, I'd say there can be great benefit in throwing yourself into something that you have had no previous experience in. I had no background in economics, let alone housing policy, but have learned an enormous amount about both in a very short period of time. There isn't as much an established route into these things as there might be for comparable private-sector organisations, so I think being willing to explore new subject areas and learn fast is a great approach to take.