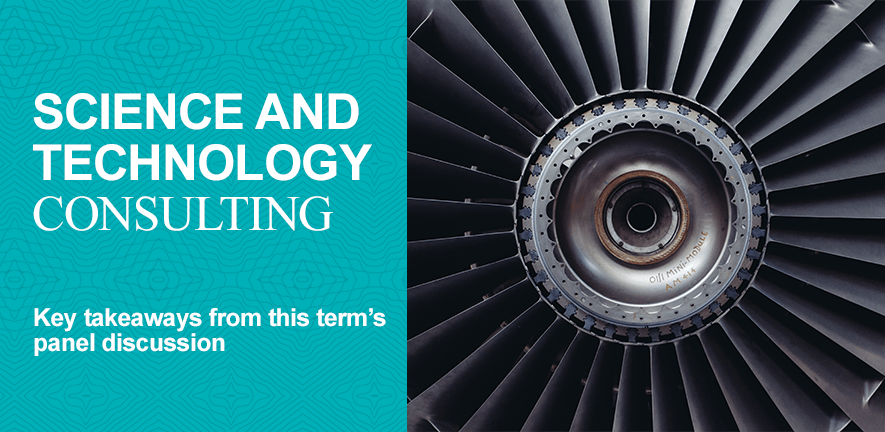 Our recent Science and Technology Consultancy Panel saw six speakers share an abundance of advice for those of you aspiring to use your scientific and technical knowledge in consulting. Below are some of the lessons we learned
Consulting = variety
Many of the panellists joined their respective consultancy jobs in a search of variety. While scientific research lends itself to a narrow focus on one area of knowledge, consulting draws on many different skills and disciplines. Science and technology consulting brings together people with diverse skills and backgrounds to solve complex problems for clients, often involving an element of innovation. As a consultant you work with people from many different walks of life and learn about the workings of a varied range of companies. Even within a sector niche, such as medical devices, you will work on an array of projects, and adopt a variety of angles.
"A key advantage of consultancy is that you can try a lot of things."
Career exploration is an ongoing process
The consultancy scene is broader than perhaps any other area you can work in. The term 'consultancy' can mean practically anything, from advising on how to solve specific manufacturing problems, to helping a pharma company take a revolutionary cancer treatment to market. Consultancies will furthermore be of different sizes and boast very different cultures, so it is important to find the right culture fit for you.
Our panellists shared key reasons why they enjoyed their jobs, and a popular one was an atmosphere they connected with at their chosen firms. It's important to continuously explore what excites and challenges you, and to find the consultancy role that suits you and your values. It may be that what you end up doing is very different from what you studied as an undergraduate. The takeaway, however, is that it's okay to not know what you want to do just yet.
"The decision point that you're at right now is not the final decision point."
Tips for preparing for a career in this sector
In both science and technology consulting your technical and scientific skills are valuable, and there are some significant similarities with scientific research – thinking about complex behaviour, attention to detail, and drawing conclusions from large sets of evidential data. However, the nature of consulting is such that to succeed you will need to be curious about science, and creative. Planning and executing relevant investigations is something consultants must do on a daily basis, as is answering questions in a targeted way. As with any challenging activity, resilience will take you far.
"All consultancies have a different feel. It's not about bad or good – it's about what fits you."
If you're keen to take steps to prepare for a career in this area, a top tip is getting in touch with people who already work there. Try GradLink, the Careers Service's alumni database, or going to university networking events. Apart from that, work on your writing and visual communication (e.g. start a blog, write for a newspaper, or become publicity officer of a student society) and get some commercial experience, even if it's not an internship (e.g. enter entrepreneurship competition, or commercial projects with student societies).
When it comes to consulting interviews, putting on a show is never a good idea. Being genuine, curious, and honest about what you do and don't know will impress much more. Demonstrate that you can understand a problem before you solve it, however, bear in mind that just as you consider culture when choosing where to apply, so do most consultancies when recruiting. Many times, a rejection will not mean much more than 'we thought you wouldn't be happy here'.
To discover more about science and technology consulting, explore our Career Sectors A-Z
You can also listen back to the recording of this panel in full on our website