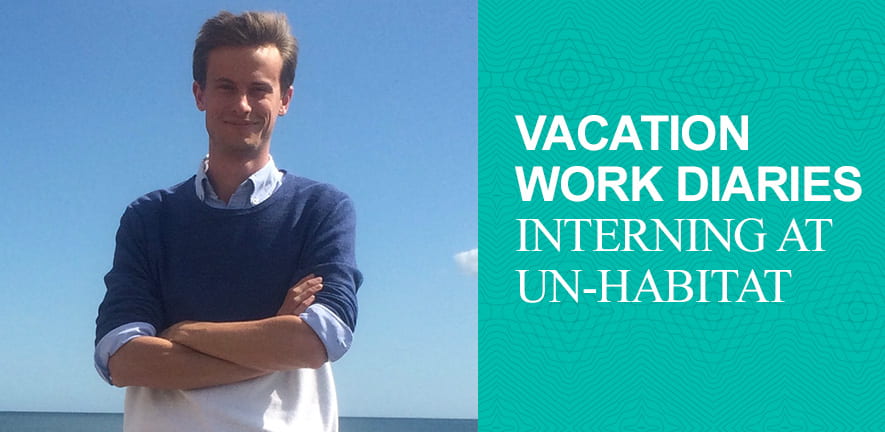 Lander Bosch, a Geography PhD student from Gonville & Caius College, shares insights from his time interning at UN-Habitat in Nairobi
In August of last year, I started my four-month internship with the United Nations' Human Settlements Programme (UN-Habitat) in Nairobi, Kenya. UN-Habitat is mandated by the UN General Assembly to promote socially and environmentally sustainable towns and cities, with the broad aim of providing adequate shelter for all. As a Health Geographer with a particular interest in the impact of the built environment on the health and wellbeing of urban populations, it was a real privilege to join UN-Habitat's Urban Basic Services Branch. Through research, capacity building and on-the-ground action, the Branch aims to ensure the universal and equitable provision of water, sanitation, waste management, energy and transport to the 55% of the global population currently living in cities.
Active involvement
I participated in a wide range of projects carried out by UN-Habitat in East Africa and the wider Global South, with particular attention to sanitation, waste management and mobility.
In addition to assisting my supervisors with the preparation of meetings, consultations and reports, I was also assigned my own independent projects. These included an investigation into how African initiatives on sanitation provision in informal settlements could be translated to a Latin-American context, and the establishment of a research project on the stress and pollution levels experienced by children during their daily movements around their neighbourhood in Kibera, the world's largest urban slum. This set the pace for my active involvement in research, pilot studies and report writing, focusing on ways to improve the built environment for those with inadequate access to sanitation, waste management or transport.
"As UN internships are unpaid, the funding awarded by the University of Cambridge's Careers Service through their PhD Bursary Scheme […] enabled me to make the most of this unique opportunity"
Missions in the field
I was also lucky enough to be able to join missions in the field across Kenya with the aim of assessing the existing state of urban basic service provision, meeting project stakeholders and beneficiaries and raising awareness around the work of UN-Habitat. This allowed me to witness and contribute to the work of the UN on the ground, and to better understand and appreciate the importance of intergovernmental collaboration for development, both in terms of policy and practice. In addition, I was invited to present my research findings at a UN conference on innovation in sanitation to a wide audience of representatives from the water and sanitation sector, national and international governments, and the UN.
Making a difference
My time in Nairobi demonstrated how stimulating it is to work for the UN, contributing to complex interventions involving numerous governmental, public and private stakeholders, each with their own needs and interests, and set in often challenging environmental and socioeconomic conditions. Being able to contribute to making a difference in these multifarious circumstances is truly motivating and rewarding. My internship also shed light on the degree to which large bureaucracies such as the UN are sometimes confronted with internal rigidity and external obstacles that slow down the implementation of policies and interventions. Finding solutions to these issues demands teamwork, and strengthened my creative thinking, proactive agency, and flexibility!
Future goals
My time with UN-Habitat offered me valuable insights into what a potential career with the UN could entail, and the opportunities outside of academia available to PhD students after graduating. Moreover, I managed to build a network of contacts within and beyond the Agency which will surely be beneficial in my future career. As UN internships are unpaid, the funding awarded by the University of Cambridge's Careers Service through their PhD Bursary Scheme, as well as by my college, enabled me to make the most of this unique opportunity. I'd like to thank both for their valuable support.
Applications for this year's PhD Bursary Scheme are currently open. Bursaries of up to £500 are available to Cambridge PhD students to help fund unpaid or low-paid work experience in sectors where it is hard to get paid experience: media, arts & heritage, and not-for-profit. Full details are available on our website (including downloadable reports from previous bursary recipients). The closing date for applications is 9am on 5 May 2020