Charlotte Barnard, a fourth-year languages student from Newnham College, is running a pair of careers panels for the SU's Class Act campaign this month. Here she discusses the post-admissions access group and its programme
I've just come back early from my Year Abroad in Paris…
…and am currently hunkering down in Cambridge, where I'm working on some projects for Class Act, trying to keep up my language skills, and attempting to befriend our neighbours' cat. I am the Campaigns Officer on the Class Act Campaign, as well as holding one of the unfilled representation roles on our committee for the time-being.
Class Act is a post-admissions access group for students who have experienced socio-economic disadvantages.
A range of different people fit under what we call the "Class Act umbrella", they could be state-comp-educated, the first person in their family to go to university, estranged or care-leavers, from a low-income background, etc! This list really isn't exhaustive, and the idea is that if you feel you have experienced some kind of educational disadvantage, you're welcome at Class Act, and no one will ever be asked to explain why they need this space.
This year, among many things, we're working on representation and advocacy.
We want to see a Class Act representative on every JCR, to give students an in-college point of contact. We're also working to support students who are made more precarious by this pandemic, both currently, and as they graduate into a stressful job market, and potentially a recession! We're hoping to be able to work more with the Careers Service this year, linking up students with the services that can support them. We have a big committee, and every member has their own goals, so this is really just an overview.
As a soon-to-be finalist, the careers panic has hit me hard!
Like many people, I've been going to as many events, talks and panels as I can. However, I found that at external careers events (those not run by the Careers Service), some of the advice certain individuals were giving was only really helpful if you have a lot of financial or material familial support and/or existing connections. I left a lot of them feeling completely deflated and hopeless! I raised some of my experiences with the organisers of the events I was attending, but their responses tended to be defensive, rather than constructive. So, I thought, if events featuring people with experiences like mine don't exist at the moment, I'll organise some!
I have invited people from disadvantaged socio-economic backgrounds to talk transparently about their careers and experiences.
My hope is that people will leave feeling like their chosen career path is possible, even without a privileged financial background. Our panellists come from a range of different fields and are at different points in their careers. Some have recently graduated, so will be able to advise on grad schemes; some were mature students, and are just getting started in their dream job; others have years of experience in their industries. We have two panels, loosely grouped into a 'corporate' panel, and a 'creative' panel. On the corporate panel, we have an MP, a consultant, a clinical psychologist, a solicitor and an academic. On the creative panel, we have an author, a communications expert, a journalist, a musician and a publishing administrator. They all have tonnes of insight and advice to share with students.
Meeting and working with people with experiences similar to my own has been a real highlight.
There are some absolute forces of nature involved with Class Act at the moment, working on some very important projects. It is a privilege to get to work alongside them, and it makes me feel very positive about the future of our University.
In terms of my own career…
I am currently torn between putting my degree into practice and going to work abroad, hopefully in the film industry; and continuing my studies with a Master's. I think the best thing about the Careers Service is how approachable they are, and how easy it is to make appointments.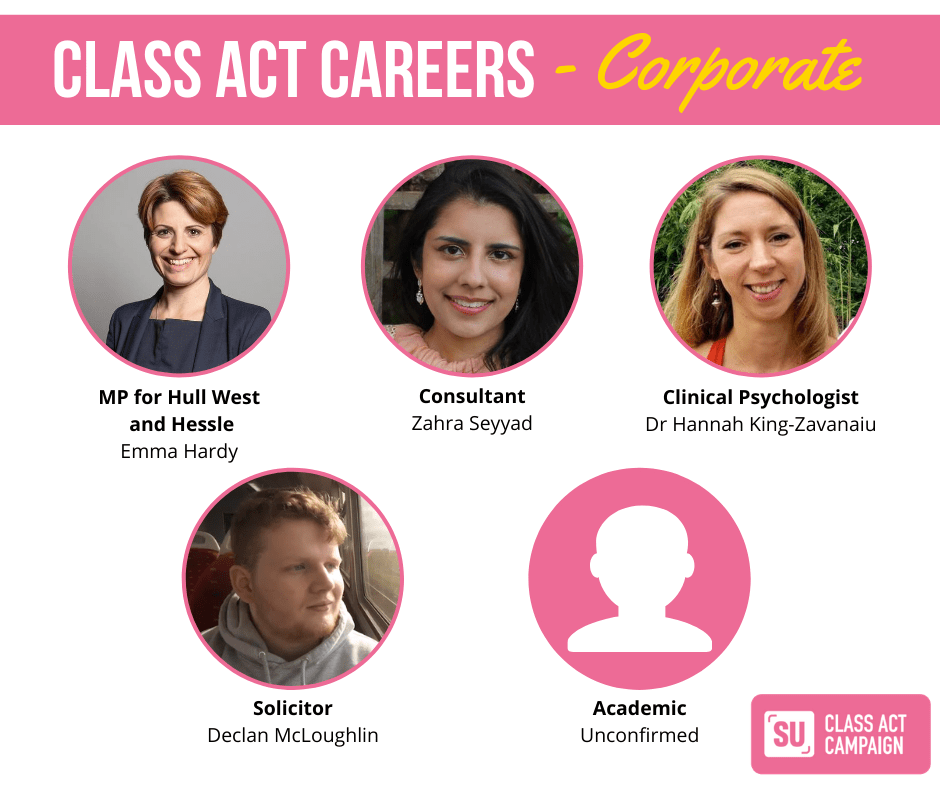 The Class Act corporate panel takes place on 29 August 2020 at 12pm; RSVP on Facebook here

+ the Class Act creative panel is on 30 August at 1pm; RSVP on Facebook here