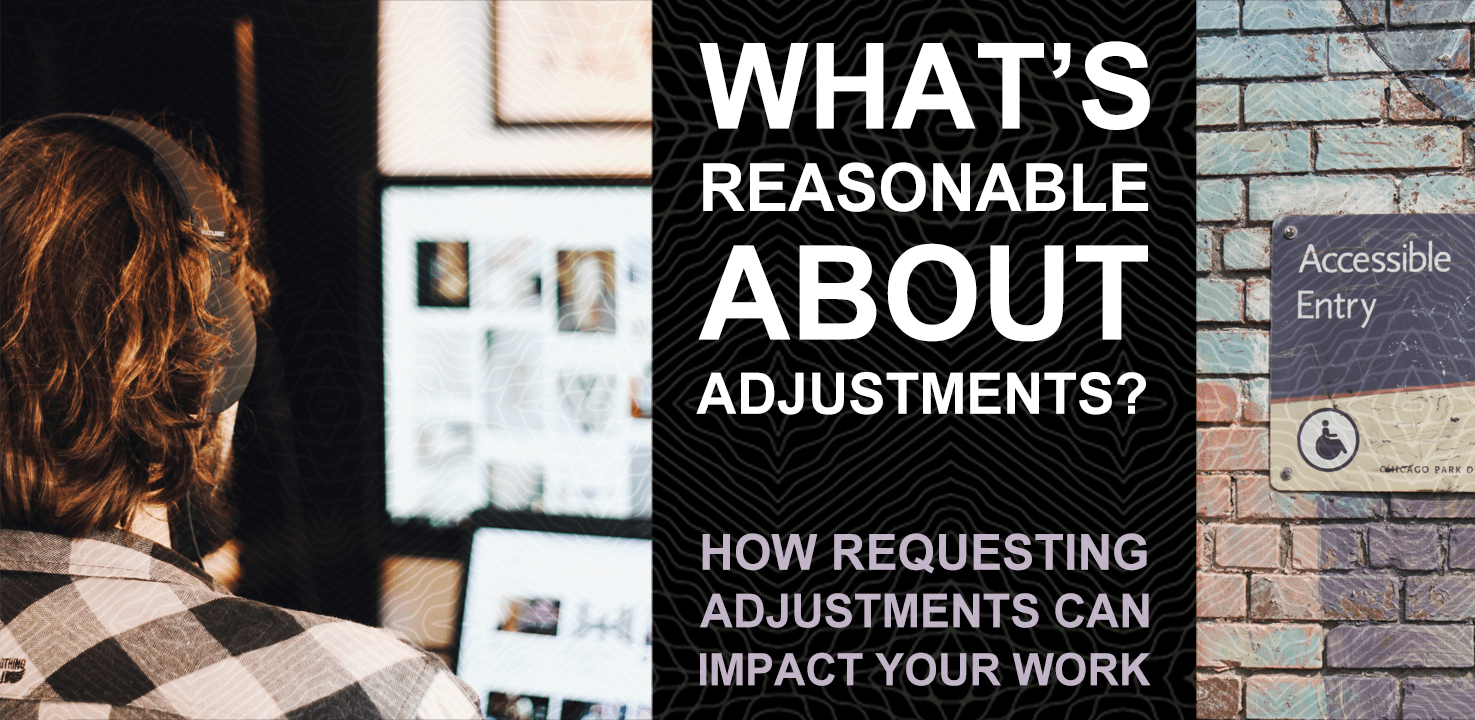 Catherine Alexander, Careers Consultant at the CS, explains what workplace adjustments are, the difference between reasonable and unreasonable requests, and how they can help accommodate for a disability at work
I didn't know reasonable adjustments were a thing!

Catherine Dove, MML student with ME at Oxford University speaking at a MyPlusConsulting event.  
When she first started thinking about applying for work experiences Catherine wasn't aware that she could ask for adjustments to help her. With Careers Service support she has worked through what she needs, has successfully asked for adjustments and will start her new role at the Civil Service in the Autumn. 
While some students are more than happy to talk about their disability and ask for what they need others don't realise that they are 'allowed' to ask for adjustments or, understandably, hold back from asking. It can also be difficult to know what to ask for if you've never experienced a workplace before. 
In a nutshell, it is absolutely reasonable to ask for the accommodations you need to access, and thrive in, a workplace. 
What are reasonable adjustments?
'A 'reasonable adjustment' is a change to remove or reduce the effect of an employee's disability so they can do their job. The reasonable adjustment could be to: the workplace; the way things are done; additional help for the employee or job applicant.' (www.acas.org.uk) 
This also applies to the recruitment process and adjustments to tests and assessment centres are common. 
Many adjustments are completely free: 
flexible working hours to avoid an anxiety inducing rush hour crush on the tube or because medication might make you more tired in the mornings

 

understanding from colleagues that you prefer instructions to be in written bullet points rather than just given verbally or in dense lengthy paragraphs

 

you might need to record meetings

or need to take regular breaks or a quiet space to work in.

 

a designated person that you can talk to about your mental health. Addressing mounting stresses or adjusting your workload early can stop them becoming overwhelming.

extra time in recruitment assessment centres

 
Many other adjustments are inexpensive:
think ergonomic mouse or shaped keyboard to help those with RSI

 

anti-glare screen or coloured paper preferences

 

noise cancelling headphones in an open plan office.

to most businesses even a rise and fall desk which enable you to stand for some of the day or a supportive office chair for back pain is inexpensive.

 
Most adjustments which make work easier to understand and process actually make the workplace better for everyone, not only those with particular disabilities.  
Where is the line between reasonable and unreasonable when asking for adjustments?
Adjustments become less reasonable when an adjustment for you makes the work environment difficult for others. E.g. continual pacing, tapping or having background music in the office may help someone with ADHD to concentrate but would be an unwelcome distraction for others. This doesn't mean you can't work in an office environment but you would need to find a different solution – moving to a meeting room when working on projects requiring concentration, working from home sometimes, pacing in a corridor, headphones for music?  
So, what might be an unreasonable adjustment request?
When asking for adjustments you need to consider the size of the organisation, the financial cost to that organisation and the impact the adjustment will have on the business and your colleagues balancing that with any positive impact on your disability. E.g. If your need for flexible hours meant that others in a small business had double the workload for a part of every day or if you requested not to do part of your job at all that might be an unreasonable request. The same adjustment in a large organisation would be easier to accommodate as the impact on others could be lessened and any financial impact on the business more easily absorbed.   
Some small organisations are in offices built before modern standards of accessibility (e.g. the offices of the Academy of Ancient Music are in an office above a shop in Kings Parade), installing ramps or lifts for wheelchair access may be impossible to provide. However, remote working may well be reasonable.   
Reasonable adjustments can make a huge difference to your working life.
They can enable you to get a job, to sustain you in work and to progress in your career. They are also your legal right under the Equalities Act (2010). 
The Careers Consultants at the Careers Service regularly talk to students about reasonable adjustments. We can help you research what different work environments are like, to think through what adjustments you might need for a particular job and how to have that conversation with a potential employer about them. 
Don't struggle through your career – reasonable adjustments enable you to bring your best self to work.
Further Careers Service resources on reasonable adjustments: