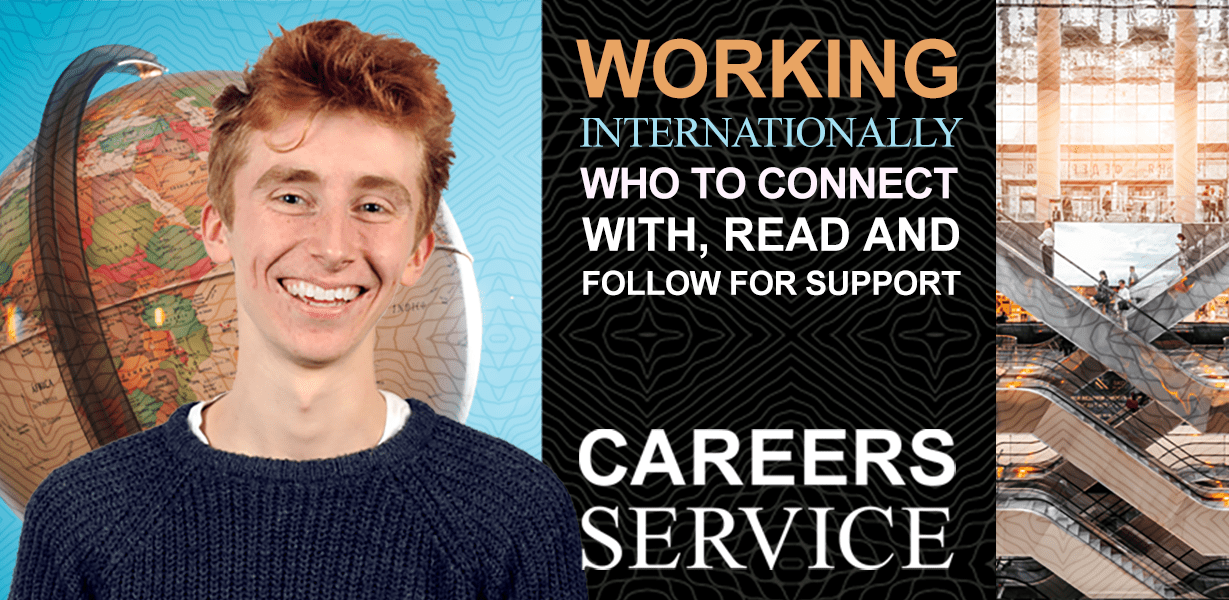 Emily Packer and Krista Cooper, Careers Consultants here at the CS, share their best pieces of advice and top resources for those wanting to work internationally, whether in the UK or elsewhere
Working globally is exciting, aspirational and ambitious.
After you finish your study, you may be thinking of working internationally. This could mean working in the UK or working in another country to your home.
Wherever you choose to work it is important to have the correct information about your rights and responsibilities in accessing eligibility to work in a particular country. This could entail applying for a Visa or ensuring your employer will support you to work in the country of your employment. It might mean opening a discussion with an employer on what the opportunities might be.
This is true whether you are a UK student looking to work internationally or an International Student looking to work in the UK, or another country to where you need rights to work.
The Careers Service cannot give advice on visas, but we know people who can and hope that this blog can help you to connect with the resources to support you.
Working in the UK
Connect: International Student Office (University of Cambridge)
Watch: UKCISA: UK Council for International Student Affairs
Read: AGCAS' FAQ Document responding to student questions about working in the UK
Bookmark: UK Visa and Immigration (UK Government)
Other useful websites for your career planning
Working Globally
There are a range of useful websites that can help any graduate wanting to work globally.
 Using Handshake for your job search

If you are using Handshake for your job search, these tips will support you in finding suitable roles:

Complete your 'Career Interests' profile, and answer 'Where are you interested in living?'
On your personal profile ('My Profile') complete the section 'Cities: What cities would you consider?'
When searching for a role, filter by 'location'
Note: an employer can register as having their base in one country (i.e UK) but have offices globally – so do read any job description thoroughly to see if they mention any other location opportunities
Tip: Be open to asking employers about their opportunities in various locations, including whether people transfer to new locations after being in post for a while – this will help you understand any opportunities for movement for established staff.
We hope you find this useful, do let us know if you have any queries by emailing enquiries@careers.cam.ac.uk