See what the Careers Service is doing for you this Michaelmas Term 2023! We're starting the new academic year with more Careers Fairs than ever before, plus weekly employer-led skills sessions. Read on for some of the highlights for this term and the benefits of these events.
You can make the most of the Careers Service this term by:
Completing your Handshake Profile and Career Interests with as much detail as you can. This will enable our careers advisers to send you tailored updates and event notifications, you can also sign up for specific newsletters for catered information on sectors.
Exploring the Career Centre to access our resources and appointments.
Below is a flavour of what we've got coming up. Find our full range of fairs, sessions and panels via the Events section. Check in regularly as new events are added all the time!
Don't miss our careers events this term – they only take place once each academic year and are the only official University events of their kind. You can discover more and register via Handshake.
Graduate Schemes & Internships Fair | Monday 9 October, 3-6pm
Learn more about graduate schemes and internships from a broad range of employers across sectors, including employers you won't find at other fairs this term in sectors including marketing and media, public services, charity, creative arts, FMCG, and the environment.
Consultancy Fair | Tuesday 10 & Wednesday 11 October, 2-6pm
These 2 fairs are an excellent opportunity to meet 50+ organisations offering graduate-level roles and/or internships. The fairs cover a wide range of consulting specialisms, including the public sector, IT, technology, and strategy.
Banking & Finance Fair | Thursday 12 October 2-6pm
A chance to meet a wide range of employers from the banking and financial markets sectors. You'll find a range of employers from some of the largest global investment banks to niche trading firms.

Engineering Fair | Tuesday 17 October 2-6pm
This fair is your chance to connect with 40+ employers from a range of engineering firms who have graduate-level roles and/or internships available. Sponsored by AECOM.
Tech Fair | Wednesday 18 October 3-6pm
A new Michaelmas fair this year, meet employers with roles in technically skilled careers such as development, coding and cloud computing; and non-technical careers including marketing, communications and strategy. An interest in tech is all you need.

Life Sciences Fair | Thursday 19 October 4-7pm
Another new Michaelmas fair, discover a variety of roles in Life Sciences from hands-on lab work to hands-off non-research roles.
Law Fair | Tuesday 24 October 2-6pm
Our Law Fair is comprised of solicitors and barristers, plus course providers and relevant pro bono organisations, spanning 30+ firms, including boutique and Magic Circle.
Maths & Quant Finance Fair | Tuesday 31 October 3-6pm
A specialised fair dedicated to mathematics and quantitative finance. Representatives attending the event will be able to answer questions about working with mathematical models in finance and other sectors.
Economics Fair | Wednesday 1 November 1-3pm
At our Economics Fair you can meet organisations offering economics related graduate-level roles and/or internships, including consulting and research firms in both the private and public sector.

Barristers Fair | Tuesday 28 November 12.30-3.30pm
This event will help you find answers to all the questions you have about the Bar from those working at a cross-section of chambers as well as representatives from Law Schools.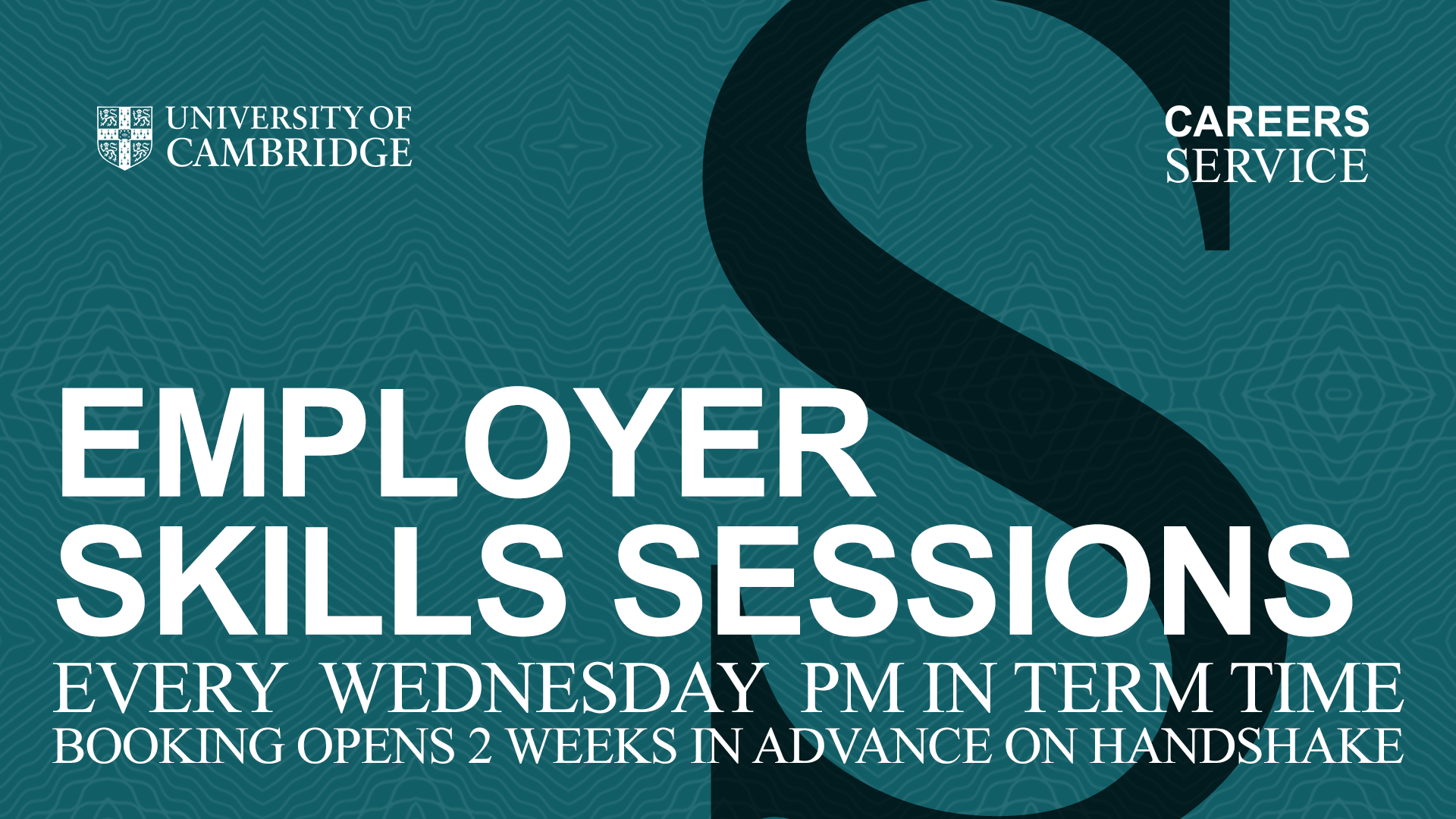 Every Wednesday afternoon throughout Michaelmas we will be hosting Skills Sessions with employers in the Student Services Centre and online.
Led by employers from a diverse range of sectors, our Skills Session programme helps you develop your skills for the workplace. These 60 – 90 minute interactive sessions include case study workshops, assessment centre simulations, group discussions or insight sessions with Q&A. Whilst the employers leading have specialist fields, the main focus is developing transferable skills for any career and so all are welcome.
Our Career Essentials events cover key topics from generating ideas for your career to networking, applications, and interviewing. In addition to our interactive workshops on the right, you'll find resources, guides and videos on our Career Essentials webpage. Are you an early career researcher? Check out our bespoke resources and Career Essentials workshops for PhDs and postdocs for both academic careers and roles beyond academic research.
If you're a current student or recent graduate planning to return to China and looking for employment in an international or Chinese company, you should check out our Careers in China events happening this term and next.
Next term we'll have even more fairs and events covering an even wider range of sectors, such as creative careers and not-for-profits. Our social media channels, such as our Instagram and X, are frequently updated with opportunities and events too. You can also check out our online resources on various careers and book in for a consultation at any time.
Handshake have just launched their careers feed on the app! You'll be able to listen to quick career discussions, see jobs and events relevant to you at a glance, and watch various careers related videos. You can also book appointments, speak to employers and connect with alumni through the Handshake app.
Download it on the App Store or get it on Google Play.
We hope you find this useful, do let us know if you have any queries by emailing enquiries@careers.cam.ac.uk